Flourish In Time – Ancy Deng, Zhang Linghe
Flourish In Time is a youth campus warm and sweet healing drama directed by Jiang Jinlin, led by Deng Enxi and Zhang Linghe, co-starring Ryan Ren, Tan Yanyan, Zhang Jiashuo, Guo Xinyu, and Hong Yinuo.

The drama is adapted from the novel "谁能凭爱意将月亮私有 / Who can private the moon with love" by online novelist Fan Dawang, which tells the sweet story of a young man and a woman who grow up together by accompanying each other, guarding each other, and having a mutual crush, from childhood friends "pseudo-brother and sister" to "lovers".
Details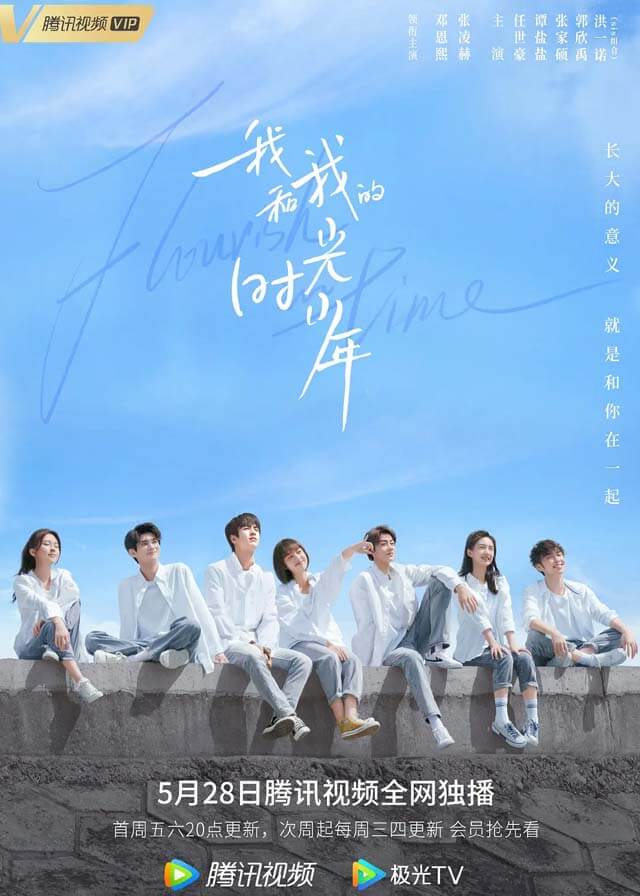 English Title: Flourish In Time
Chinese Title: 我和我的时光少年
Genre: Youth, School, Life, Friendship
Tag: Disability, High School, Slight Romance, Healing, Student, Bright Female Lead
Episodes: 24
Duration: 45 min.
Director: Jiang Jinlin
Writer: Wang Ruoke, Xiang Yaowei
Producer: Huang Yanhong
Product Company: Tencent Penguin Pictures, Curiosity Pictures, Suan Tou Film & TV
Released Date: 2021-05-28
Boradcast Website: WeTV, TencentVideo
Cast
Synopsis
An accidental car accident gave Lu Miao an extra "brother" – Jiang Haoyue.
Lu Miao had developed 18 martial arts skills to become a female knight who guarded the prince in distress, while Jiang Haoyue was also silently guarding Lu Miao's youth in his own way.
In Lu Miao's opinion, Jiang Haoyue was the moon she spent her entire youth chasing.
But the moon's light comes from the sun, and in Jiang Haoyue's heart, Lu Miao was the little sun that really shines and lights up his dull world.
Entering high school, Lu Miao gained new friendships and gradually realized that her feelings for Jiang Haoyue were not simply that of a brother and sister, while the appearance of Shi Che also gives Jiang Haoyue a strong sense of crisis.
In the process of their growing up, their brother-sister relationship gradually evolves into young love.