Fighting! Girl – Wang Bowen, Li Mi Er
Fighting! Girl is an urban youth inspirational drama directed by Lin Shuijing, starring Wang Bowen, Li Mi Er, Fan Meng, Wan Peixin, Lv Yanbei, and Li Chang.

The drama is adapted from the best-selling novel of the same title by Jin Jiao Xi Yu, which tells the inspiring story of Qu Mo, a graduate who aspires to become an original designer, who stumbles along the way to start her own business and eventually returns to her original heart, reaping the rewards of love, friendship, and career.
Details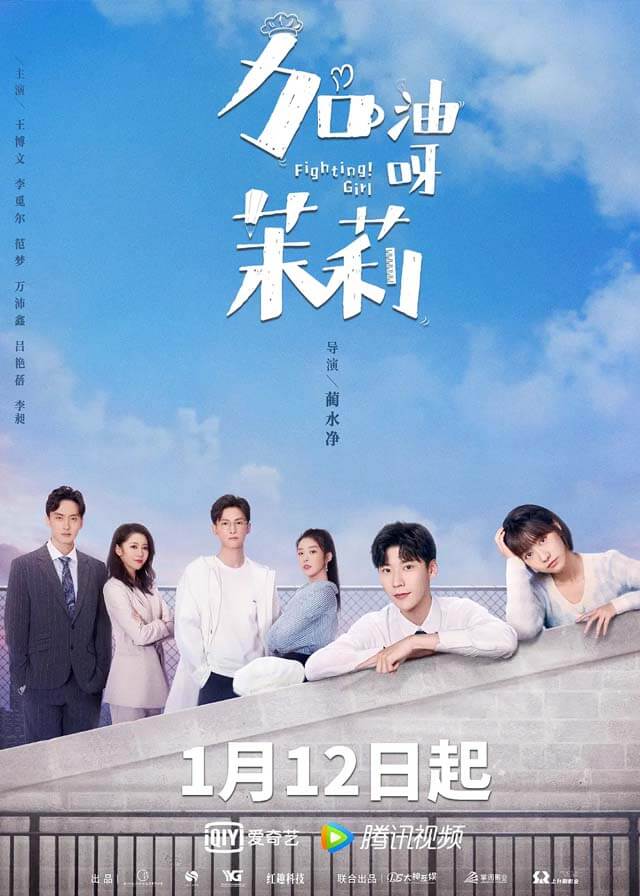 English Title: Fighting! Girl
Chinese Title: 加油呀! 茉莉
Genre: Urban, Romance, Life
Tag: Strong Female Lead, Male Chases Female First, Friends to Lovers, Love Triangle, Fashion Designer Female Lead, Shop Owner Male Lead
Episodes: 24
Duration: 35 min.
Director: Lin Shuijing
Producer: Cui Bin
Product Company: Huanjiang Media, Yiyang Culture Media, Yangyungu Culture Media
Released Date: 2022-01-12
Broadcast Website: KUKAN, Viki
Cast
Synopsis
Qu Mo, a young girl, has just embarked on her entrepreneurial journey to pursue her dream in life, but she has been hindered by the withdrawal of her best friend Cao Yaoyin, the closure of her online store, and the breakup with her boyfriend Pei Jing.
At this time, the hidden rich boy and dessert chef Gao Ziyi, whom she met by chance on the eve of graduation, has been silently guarding and supporting Qu Mo.
Qom regained her strength and decided to enter the workplace to "pursue her dream". With her talent for fashion and hard work, she was able to plan two successful events.
At this time, Qu Mo was awakened by Gao Ziyi and resumed her dream of becoming a designer. With the help of Gao Ziyi and other people, she opened a studio on the second floor of the sweet store. Soon after, Gao Ziyi confessed his love and they began a sweet relationship.
The famous designer Miyazaki recommends Qu Mo to take part in the designer examination of the Japanese fashion group Kratom. Under Miyazaki's tutelage, Qu Mo's skills soar, but she loses her own design style.
At the same time, Qu Mo's father's factory closes down, Gao Ziyi gives up his dream for Qu Mo and returns home to inherit the family business. In the end, Qu Mo reopens the factory, creates the "Jia You Ya" brand, and recovers the original design, and Gao Ziyi finally reconciles with his father.
Qu Mo and Gao Ziyi accompanied and encouraged each other, never forgetting the original intention to adhere to the ideal, harvesting sweet love and sincere friendship, they will continue to move forward hand in hand towards their respective dreams.
Reviews
You May Also Like
Related Posts