Fearless Blood – Dong Zijian, Tong Liya
Fearless Blood is a period drama directed by Xu Bing, starring Dong Zijian, Zhang Yi, Zhang Luyi, Liao Fan, Yu Qian, Tong Liya, Ren Min, and Qiu Tian.
Details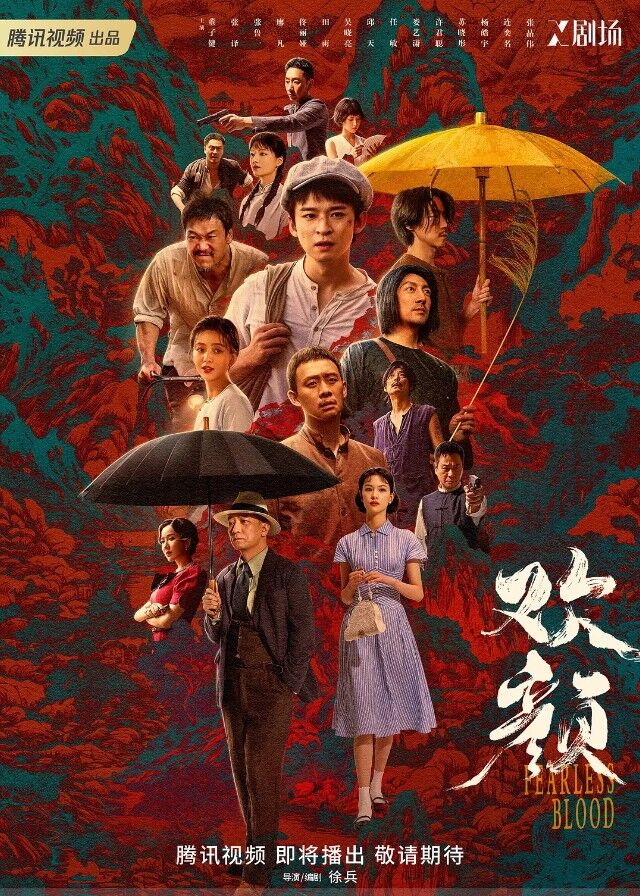 English Title: Fearless Blood
Chinese Title: 欢颜
Genre: Drama, Thriller
Tag: Multiple Mains, Weak Male lead, Death of a Character, Gun Violence, Mild Gore
Episodes: 18
Duration: 45 min.
Director: Xu Bing
Writer: Xu Bing
Producer: Huang Xing, Zhao Zihui
Product Company: Tencent Penguin Pictures
Released Date: 2023-07-15
Watch On: WeTV
Subtitle:
English, Chinese, Thai, Indonesian, Arabic, Spanish, Portuguese
Cast
Synopsis
The drama tells the story of Xu Tian, a young man who goes north with a mission to support the revolutionary cause and meets many bloodthirsty and respectable aspirants, allowing Xu Tian to shed his youthfulness and combine his ideals and will.
Reviews
2amor

Fearless Blood-The Idealist's Adventures in Chaos!

The lineup of "Fearless Blood" is quite appealing, bringing together actors such as Dong Zijian, Zhang Yi, Zhang Luyi, Wu Xiaoliang, Liao Fan, Tong Liya, Tian Yu, and others. With so many distinctive and talented actors coming together in one drama, it is enough to pique one's interest.

As a legendary period drama, "Fearless Blood" also brings new elements to the table. In terms of its format, it resembles a road movie and also feels like a relay game against monsters.

The story unfolds through a small incision—delivering three gold bars and a young man named Xu Tian (played by Dong Zijian) from Guangdong to Shanghai. This serves as the main mission of the drama.

Initially, the task is assigned to Lao Sun, played by Liao Fan, but complications arise along the way, leading the task to be passed on to Yu Yixiu, played by Zhang Luyi. Later, it further transfers from Yu Yixiu to Yu Zhou, played by Wu Xiaoliang, and then to Zhang Jiayi, played by Zhang Yi, becoming a relay of missions. Each person faces different difficulties and challenges while carrying out this task. What kind of obstacles will they encounter? How will they break through? This adds suspense and surprises to the story.

The relay mission setup not only enhances the suspense of the story but also gives it a feeling of advancing through levels in a game. This allows the audience to better identify with the characters and immerse themselves in the story from the characters' perspectives.


"Fearless Blood" does not have a serious tone. In the series, there are many scenes and dialogues with a touch of dark humor. This unique sense of humor makes the viewing experience light and enjoyable.

Whether it's Xu Tian or the people who protect him and the gold bars along the way, they all have the same purpose: to destroy the terrible old world in front of them and establish a new world where everyone can be happy. The relay and escort missions represent the spirit, faith, and beliefs that are passed on from one generation to the next.

Today, we can show happiness, and it is the result of the collective efforts of characters like Lao Sun, Yu Yixiu, and Zhang Jiayi. They may be insignificant individuals overshadowed by history, but together they have shaped the present era.

The protagonist Xu Tian in this story embarks on a great adventure, risking everything for a new world. The segmented narrative style of "Fearless Blood" is also an adventure undertaken by the creators for a new viewing experience. Regardless of the outcome of these adventures, as long as people strive for new things, there is hope.

In conclusion, "Fearless Blood" is peculiar and makes you laugh uncontrollably, mysterious yet exudes the character of its roles. In one sentence: it's really weird but definitely worth watching!
You May Also Like
Related Posts