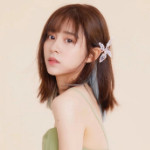 Zhang Xinyi dramas, movies, and TV shows list contains the best TV series, films of Zhang Xinyi and the ongoing and upcoming shows. The list will be updated continuously, bookmark this list to get the latest tv shows of Zhang Xinyi.
Zhang Xinyi Dramas List
2023-05-26

#1

Urban, Romance

Ding Jingyi, Zhang Xinyi, Chu Junchen

With youth entrepreneurship as the theme, the story revolves around four young men named Xin Fan, Hua Qianjin, Su Du, and Mi Ming, who bravely pursue their dreams through independent entrepreneurship. The drama showcases the journey of ordinary hardworking employees, a dream-driven milk tea shop owner, an ambitious company manager, and a resilient and adorable girl, representing the youth's spirit of entrepreneurship. They have their determination to succeed and the relentless pursuit of progress. They share a bond of friendship, supporting and helping each other, as well as experiencing the hardships and joys of love together. With their respective dreams in their hearts, they face challenges head-on and march forward relentlessly.

2023-01-29

#2

Urban, Youth, Romance

Duan Aojuan, Chen Bohao, Lu Yunfeng

The young girl, Lu Hui, was born with severe face blindness and is used to keeping people at a distance. On the first day back at school, Lang Chengzhou, an international exchange student at De Cheng University, rescues Lu Hui, who has been questioned about her suspected plagiarism. But to his surprise, Lu Hui fails to recognise the handsome man when she meets him again. Lang Chengzhou is in deep self-doubt. Lang Chengzhou vows to make Lu Hui attract by him, but he is impressed by Lu Hui's frankness, sincerity, optimism and kindness, and falls in love in the process of approaching her. After discovering the secret of Lu Hui's face-blindness, he protect Lu Hui and tries his best to make her remember him. Unknowingly, he has become a special person in Lu Hui's eyes. As if by fate, they fall in love, and a love story with many twists and turns, but one that was already destined to happen.

2022-09-11

#3

Urban, Romance, Comedy

Dai Gaozheng, Zhang Xinyi

Due to an accident, Wu Jiaojiao, who comes from a martial arts family, is left alone to run the martial arts school left by her parents and to care for the children left behind by her missing sister, . Although life is poor, the joy of raising a child offsets the hard work and exhaustion. Qi Mo comes from a wealthy family but has never enjoyed the warmth of a family. In order to win his family's approval, he is bound by chance to the martial arts school of Wu Jiaojiao, and this leads to a story that is both hilarious and heartwarming.

2022-06-05

#4

Urban, Family, Life

Zhang Yuqi, Li Zefeng, Wu Yue

Being a mother is not easy, and being a single mother is even harder. Zhou Nanan believes that she can create a happy life for her son, Xiao Yang, on her own. But at the critical point of "kindergarten to primary school", she deeply experienced the dilemma of work and family. Other seemingly glamorous mothers in the kindergarten also have their own troubles. After misunderstandings, conflicts, and reconciliation, these kindergarten mothers have grown up while guarding their children through the important stage of their lives, the "kindergarten to primary school".

2021-09-07

#5

Crime, Comedy, Thriller

Lin Yushen, Liu Yitong, Luo Yutong

The drama tells the story of a new police officer who is undercover in a pyramid scheme and a vice captain of the criminal investigation team who knows nothing about it. They were pushed into opposing camps under a misunderstanding, which also led to a wonderfully interesting capture.
Related Posts