The Worm Valley – Pan Yueming, Zhang Yuqi
The Warm Valley is a suspense adventure web drama produced by Tencent Penguin Picture, produced by Guan Hu, directed by Fei Zhenxiang, starring Pan Yueming, Zhang Yuqi, and Jiang Chao.

The drama is adapted from the novel "Gui Chui Deng Zhi Yun Nan Cong Gu" by Tian Xia Ba Cang, which tells the story of Hu Bayi and others who went to the tomb of King Xian in the original ancient Yunnan Province to look for the Dust Beads.
Basic Info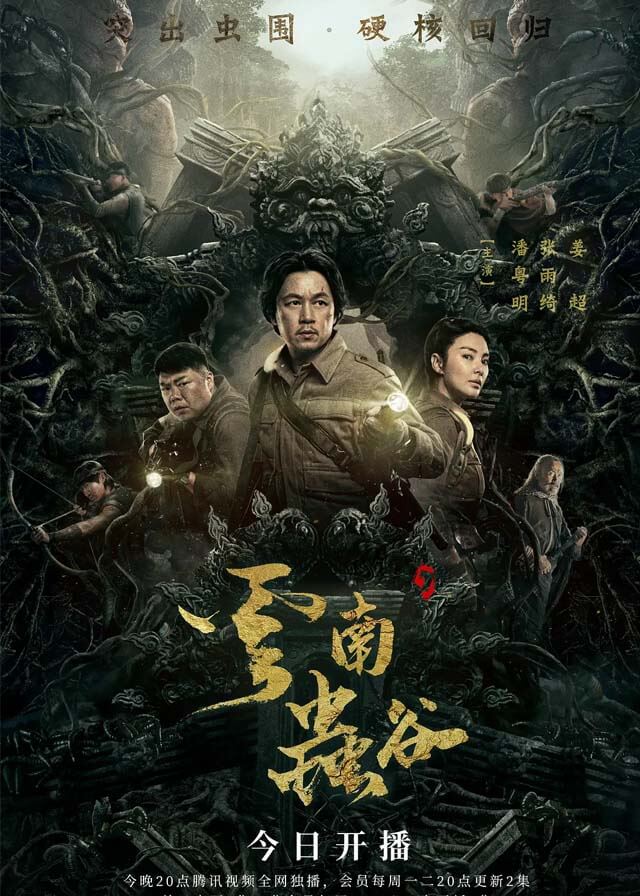 English Title: The Worm Valley
Chinese Title: 云南虫谷
Genre: Suspense, Adventure
Episodes: 16
Duration: 45 min.
Director: Fei Zhenxiang
Writer: Yang Zhe
Producer: Liang Jing
Product Company: Tencent Penguin Film Pictures, Dream Author, The Seventh Art Pictures
Broadcasting website: Tencent Video
Release date: August 30, 2021
Cast

Pan Yueming
as Hu Bayi

Zhang Yuqi
as Shirley Yang
Jiang Chao as Wang Kaixuan
Synopsis
Hu Baiyi and the others have an eyeball mark on their bodies due to their previous adventure, which carries a curse that will endanger everyone's life.
There are rumors that the dust beads can solve the curse, and it was once placed as a burial object in the tomb of King Xian of ancient Yunnan. Hu Bayi and others can only go deep into the land of miasma, and then explore the ancient tomb of strange danger.
Hu Baiyi, Wang Pangzi, Shirley Yang go through the secret underground waterway of ancient Yunnan under the Zhelong Mountain. Unexpectedly, they encounter traps, thousands of "tomb figures" made of slaves hung upside down like bombs on the ceiling of the cave.
Finally, after all the dangers, they finally arrived at the entrance of King Xian's tomb, but even greater challenges followed… …