Proud of Love – Thomas Tong, Vivian Sung
Proud of Love is a youth fantasy romance web series directed by Shen Qinyuan, starring Thomas Tong, Vivian Sung, Darren Chen, and Liu Qianyu.

The drama is based on the novel of the same name by Sui Houzhu, which tells the story of He Zhizhou, a science straight-A student, and Shen Xi, a dizzy art girl, whose souls are swapped because of an accident, and their entangled misplaced youth make their lives become very different from before, and their affections for each other gradually heats up in a roundabout way.

The series is divided into two seasons, with the first and second seasons launched on Youku on September 19, 2016, and January 11, 2017, respectively.
Details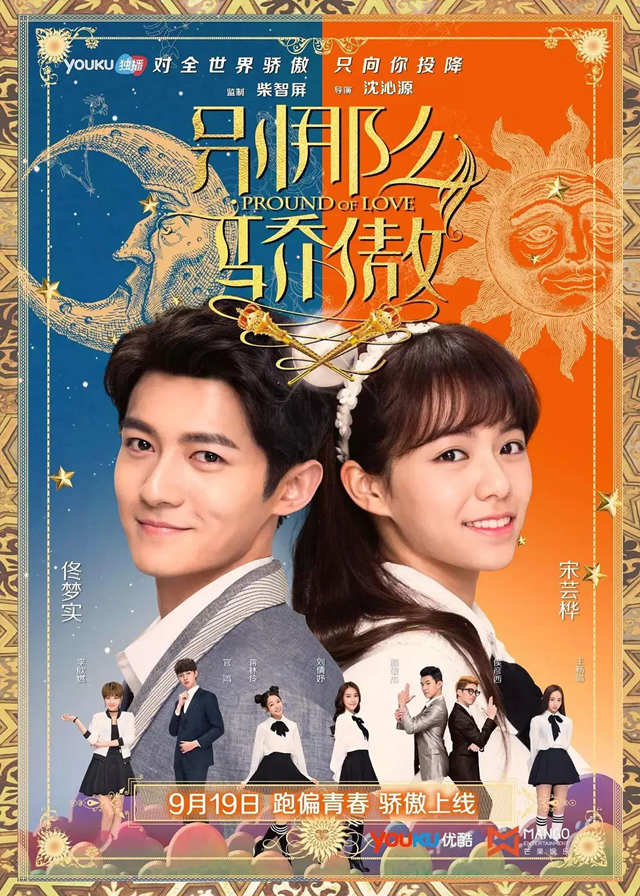 English Title: Proud of Love
Chinese Title: 别那么骄傲
Genre: Youth, Fantasy, Romance
Tag: Body Swap, Gender Swap, Identity Swap, Student, University, Adapted From A Novel
Episodes: 20
Duration: 25 min.
Director: Shen Qinyuan
Writer: Li Ranning, Zhou Yunhai, A Liao Sha, Gao Lifeng
Producer: Liu Xinchun
Product Company: YOUKU, MANGO ENTERTAINMENT
Released Date: 2016-09-19
Broadcast Website: Youku
Cast
Synopsis
Season 1
A road separates a polytechnic university full of geeks and an art college full of beautiful girls, just like separating two worlds.
The science guys have been infinite longing for the other side of the road, but the art girls are totally uninterested in the boring world of science and technology.
Only Shen Xi was obsessed with her childhood friend Lin Yutang, which also became a good story of the Polytechnic.
The isolated balance between the two schools continues for many years until the emergence of the student He Zhizhou.
The two "worlds" are intertwined under the great attraction of love, and in the common exploration of campus legends, Shen Xi and He Zhizhou have an unexpected soul swap.
With a new identity, Shen Xi is excited to take the opportunity to approach Lin Yutang, but in the face of high IQ courses and a variety of boys' unique "small problems", she is in trouble.
Meanwhile, It's difficult for He Yizhou to bear the painful physiological period and professional dance choreography.
In the process of looking for the soul back, He Zhizhou and Shen Xi have developed a mutual affection for each other, they have become friends with each other, and even after the soul back, they begin to miss the days of transformation.
In order to help each other solve the trouble encountered after the soul reversion, they choose to take the initiative to transform, however, the bigger trouble comes…
Season 2
In an accident, He Zhizhou was injured by a giant billboard to save Shen Xi. His life is not yet known.
Shen Xi accidentally found a mirror fragment that can take her back to the past. She arrived at the point in time before He Zhizhou's accident. She chose to be with He Zhizhou this time, they finally got together sweetly.
At the same time, in order to prevent the He Zhizhou accident occur, Shen Xi made all kinds of efforts, but the accident still happened.
Then Shen Xi returned back two years later because of all the laws of the universe, finding that everything is worse than ever. She tried to change again and again. In a different space-time, He Zhizhou's personality has not changed, but his identity has been changing.
But no matter what, He Zhizhou was always destined to fall in love with Shen Xi, Shen Xi just wanted to let He Zhizhou live.
Shen Xi gradually found that from the beginning to the end there were mysterious people making trouble in the dark, and the death of He Zhizhou was also his arrangement.
Shen Xi resisted with all her might, no matter how she wanted to rewrite history, but everything could not be changed!
Reviews
You May Also Like
Related Posts