Love Never Fails – Crystal Yuan, Liu Xueyi
Love Never Fails is a historical fantasy Xianxia drama co-directed by Zhao Lijun and Ying Yinglu, led by Crystal Yuan Bingyan and Liu Xueyi, co-starring Ao Ruipeng, Xu Xiaonuo, Yang Lin, and Jing Yanjun.

The drama is adapted from Shu Ke's novel of the same name, which tells the story of the immortal Jin Xiu who wants to fairy a small demon of the tea flower, Hong Ning, to become immortal, and is eventually changed by her. Jin Xiu eventually becomes a human being under the influence of Hong Ning.
Details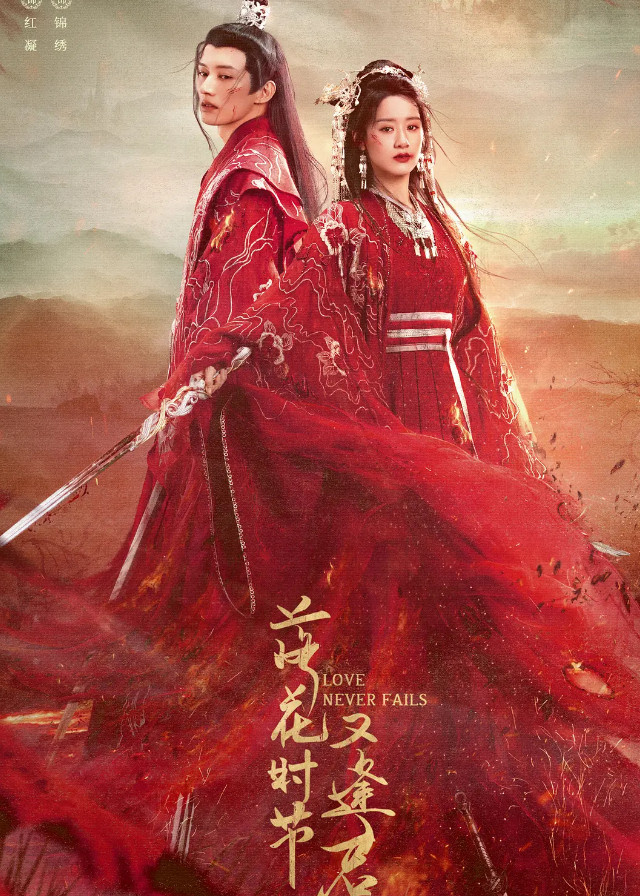 English Title: Love Never Fails
Chinese Title: 落花时节又逢君
Genre: Historical, Romance, Fantasy, Immortal
Episodes: 40
Duration: 45 min.
Director: Zhao Lijun, Ying Yinglu
Writer: Ga Ga
Product Company: MGTV, Beijing He Feng Qing Mu Pictures and Culture Media Co.
Released Date: –
Boradcast Website: MGTV
Cast
Synopsis
At the 100-yearly flower festival in the heavenly realm, Hong Ning boldly confessed her love to the god Jin Xiu and wanted to be his divine queen.
But she was told that there are differences between immortals and demons. In order to make a promise to Jin Xiu, she started a long road of immortal cultivation.
When the flowers fall, she successfully went up to heaven but learned that he was married to someone else. Hong Ning resolutely turned around and abandoned the immortal path to fall into reincarnation forever.
Jin Xiu changed her fate against all to make up for his debt so that Hong Ning was reborn.
A life of guardianship, a life side by side, the inescapable mystery of birth, inescapable misunderstandings, the time of the falling flowers, they meet again, Hong Ning is the predestined fate of Jin Xiu…
You May Also Like
Related Posts