Good Every Day – Tong Liya, Zhang Liang
Good Every Day is an urban drama directed by Lin Yan, led by Tong Liya and Zhang Liang, co-starring Wang Gongliang, Xu Fangyi, and Chen Hao.

The drama is based on the novel of the same title by Ziyoujiguang and tells the story of He Daye, a wedding planner who no longer believes in love after her ex-boyfriend runs away from her marriage, but gradually opens her heart and regains love after meeting Zhang Meng, a male model.
Details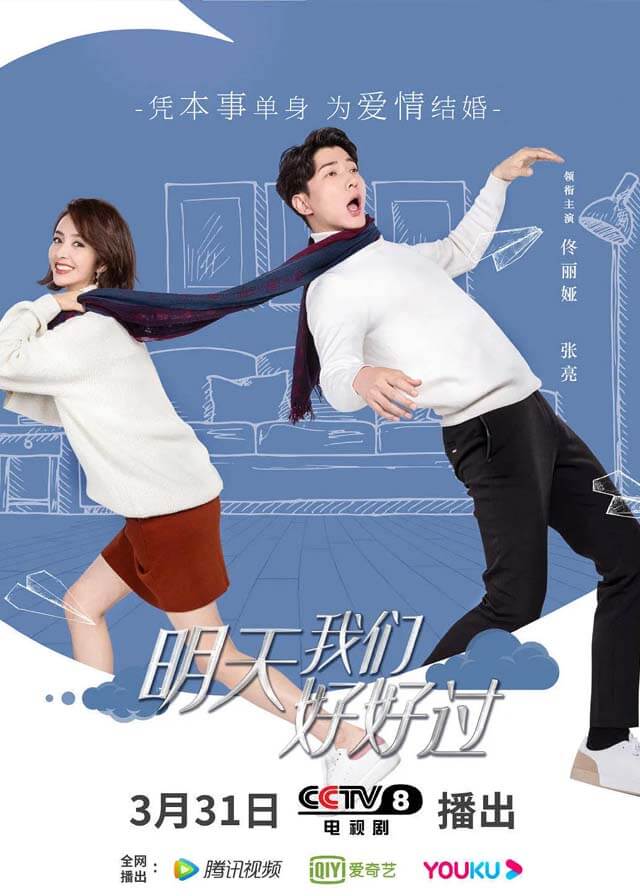 English Title: Good Every Day
Chinese Title: 明天我们好好过
Genre: Urban, Romance, Business, Drama
Tag: Strong Female Lead, Independent Female Lead, Divorced Female Lead, Divorced Male Lead, Hot-tempered Male Lead, Modeling
Episodes: 42
Duration: 45 min.
Director: Lin Yan
Writer: Ji Guangguang, Lu Sensen, Zhao Pengpeng
Producer: Shen Jijun
Product Company: Inlook Media, China International Television Corporation
Released Date: 2021-03-31
Boradcast Website: CCTV
Cast
Synopsis
He Daye, an independent and competent white-collar woman, was labeled as an "old woman leftover", but despite the pressure to get married, she still did not regard marriage as a "life event".
She chose to pursue a successful career, believing that it's more reliable by herself rather than marriage and men.
In fact, three years ago He Daye had walked down the aisle hand in hand with her pilot boyfriend Luo Chang.
Unexpectedly at the wedding Luo Chang suddenly dragged He Daye with him to escape from the wedding site.
Afterward, Luo Chang confessed that he was not ready to get married and take responsibility.
He Daye forgave him and they broke up peacefully.
After the divorce, He Daye and her ex-husband maintained friendly relations and looked after each other in life, despite the sensation of each other, but never got closer again.
Later, He Daye met the has-been male model Zhang Meng by accident.
Although Zhang Meng encountered the choke point in his career and life, he was a responsible and reliable man who was full of a sense of security.
He Daye enjoyed and tangled the affection of Zhang Meng.
With Zhang Meng's understanding and love, He Daye took off her inner guard and faced the relationship, and they got together in the end.