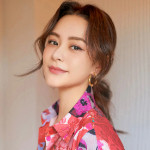 Gillian Chung dramas, movies, and TV shows list contains the best TV series, films of Gillian Chung and the ongoing and upcoming shows. The list will be updated continuously, bookmark this list to get the latest tv shows of Gillian Chung.
Gillian Chung Dramas List
TBA

#1

Historical, Fantasy, Romance

Wu Jinyan

During the Shang dynasty, Di Yi moved his capital to Zhao Ge, hoping that the city would thrive like a loud song in the morning. Time passed by, and the throne passed to Di Xin, who was so happy with his success that he fought on all sides and led the people to live an unstable life. Fortunately, Ji Kao, the son of Ji Chang of Xiqi, and Yin Jiao, the son of Di Xin, are young heroes who hope to save the people from their hardships with their modest efforts. When Ji Kao is framed and sent to a slave camp, Yin Jiao almost sacrifices his life to save him. On his way to escape, Ji Kao meets Jiang Ziya, Ne Zha, and Yang Jian, and with their help, he escaped back to Xiqi. In 1048 B.C., Ji Kao renamed Ji Fa, joins 800 lords in a collective crusade against Di Xin and finally overthrows the Yin Shang Dynasty. In the process, Yin Jiao, mistakenly believing that his mother was killed by Ji Fa, turns against him. After a battle, Yin Jiao finally realizes that it does not matter who is in charge of the kingdom, but what is most important is to bring happiness to the people. Yin Jiao commits suicide and Ji Fa is crowned king of the Western Zhou, continuing the wish he had shared with Yin Jiao to make the people happy. In the course of the story of the conquest of Zhou, the trajectory of these historical figures also left behind many places of interest and customs in the city of Zhao Ge.

2014-07-02

#2

Historical, Romance, Fantasy

Yang Mi, Li Yifeng

During the Tang Dynasty, Baili Tusu, a disciple of Zi Yin Zhen Ren, has a mysterious evil spirit in his body, which he suppressed with the Fenji Sword. He befriends Ouyang Shaogong and Fang Lansheng when he is killing bandits at the Fanyun Fortress. Shaogong is a disciple of Qing Yu Tan. When the elder Lei Yan usurps the throne, Shaogong escapes and looks for the whereabouts of the "Yu Heng". As Shaogong is making an elixir to revive the dead, Tusu thinks that he can save his mother's life, so he goes with Shaogong. On his way to find Yu Heng, Tusu befriends Feng Qingxue and Xiang Ling. The story goes on. Hong Yu is dispatched by Ziyin Zhen to protect Tusu and save him from many dangers. Shaogong makes an elixir and Tu Su's mother wakes up. Tusu learns that she was hurt by Shaogong. Lei Yan sends his men to capture Shaogong and instigate him to work together for a great cause. Shaogong uses Lei Yan's trust to develop a poison to kill Lei Yan, while secretly planning to use Yu Heng to subdue Tusu and restore the cause of Penglai. When Fang Lansheng discovers Shaogong's plot, Tusu breaks the seal and goes to Penglai with the others to confront Shaogong. Shao Gong is killed. In the end, Fang Lansheng, Hong Yu, and the others find their own way, and Tusu and Feng Qingxue get together as well.
Gillian Chung Movies List
2016-12-16

#1

Suspense, Thriller, War

Ge You, Zhang Ziyi, Du Chun

In 1930s Shanghai, amidst war, the prosperity of the city had faded away. The influential gang leader Mr. Lu, agreed to let the socialite Xiao Liu play the lead role in his movie. However, Xiao Liu became involved with the male lead and was asked to leave Shanghai. Mr. Lu's brother-in-law, Du Bu, brought Xiao Liu home and kept her as a sex slave. The housekeeper, Wang Ma, introduced a serious-looking carriage driver to Mr. Lu to be his personal bodyguard. On the eve of the Battle of Shanghai, the Japanese planned to kill Mr. Lu. As a spy, Du Bu agreed to kill Mr. Lu and all of his family were killed. Mr. Lu asked his trusted men, Lao Wu and the carriage driver, to kill the gang's second-in-command who had defected to the Japanese. On the eve of the end of the Anti-Japanese War, Mr. Lu found Xiao Liu who had been imprisoned and they left for the island of Luzon togethe, pretending to be a high-ranking Nationalist general's driver, killed Du Bu's eldest son, and Xiao Liu shot and killed Du Bu. In 1949, Mr. Lu went alone to Hong Kong and disappeared.

2016-09-14

#2

Fantasy, Romance, Comedy

Han Geng, Tiffany Tang

The Fairy Zi Xia, who died under the fork of the Bull Demon King in "A Chinese Odyssey 2: Cinderella", will see this scene in advance through the "Moonlight Box". She chooses to go back in time to prevent Zhi Zun Bao from falling in love with her in order to avoid the tragedy. Zhi Zun Bao meets Bai Jingjing again, who has been waiting for him. The love-hate relationship between the past and present lives is once again played out for the last time.
Related Posts