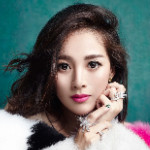 Liu Zijiao dramas, movies, and TV shows list contains the best TV series, films of Liu Zijiao and the ongoing and upcoming shows. The list will be updated continuously, bookmark this list to get the latest tv shows of Liu Zijiao.
Liu Zijiao Dramas List
2022-06-15

#1

Urban, Romance, Business

Joe Chen, Jin Han

Dugu Ruonan is a good agent whose dream is to create artists of the highest standard as a craftsman. Her insistence on professionalism, dedication, and adherence to the bottom line is also evident in her strict and forceful style and maverick personality. Because of the intertwining of life and the workplace, Ruonan meets Ji Mo, her "nemesis" and "mentor" in life, a fashion elite who knows a lot about psychology. They have very different personalities and gradually get to know each other, turn enemies into friends, reveal their hearts, and heal each other in the process of fighting against each other. From knowing each other to loving each other, love becomes their solid backing, and the persistent pursuit of their dreams makes their hearts connected. They face the ups and downs of their careers together, firmly believe in each other, grow together, and finally achieve their dreams and also harvest happiness.

2018-02-07

#2

Urban, Romance

Wallace Chung, Jiang Shuying

Ten years ago, Lu Fei, a talented student met Xin Chen, a stubborn and rebellious girl. They have very different temperaments, but they have fallen in love in an accident. And they eventually separated. Ten years later, Lu Fei appeared again. He put aside his fledgling career abroad and insisted on returning here to look for Xin Chen. But Xin Chen, a dance teacher, had misunderstood him years ago and her expectations of the relationship had long since fallen to the freezing point. Their love was facing a huge challenge. She told Lu Fei that she had put him down long ago and hoped he could find new love. Lu Fei did not leave, but settled down and tried to intervene in Xin Chen's life. But instead of being impressed, Xin Chen once again left without saying goodbye. Xin Chen ran away again and again. One day Lu Fei did not show up again. Xin Chen thought she would feel relaxed, but found that she began to miss Lu Fei. It turns out that she has always loved Lu Fei, but the secret she hid deep inside made her afraid to fall in love with him again. The persistence of Lu Fei finally moved her and rekindled her courage to love. She was finally ready to set off in search of Lu Fei, only to find him not far away, always protecting her around.
Related Posts