Dine With Love – Gao Hanyu, Jade Cheng
Dine With Love is an urban romantic drama directed by Chen Gang and starring Gao Hanyu, Jade Cheng, Wang Peihan, He Lei, Bai Xinyi, Yang Xue'er, Lu Lu, Ren Jie, Zeng Xitang, and Chen Luxi.
Details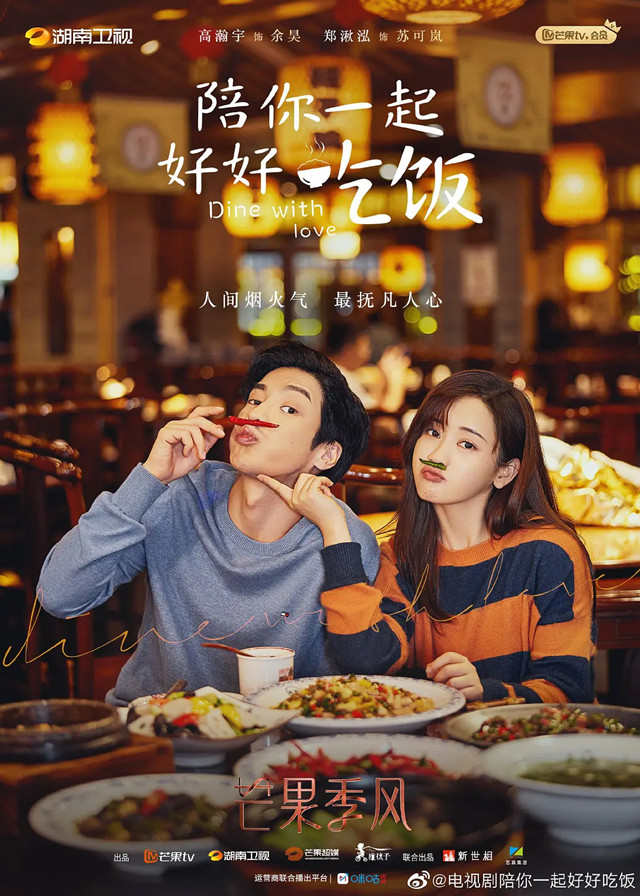 English Title: Dine With Love
Chinese Title: 陪你一起好好吃饭
Genre: Urban, Romance
Tag: Steamy Kiss, Workplace Romance, Ex-Girlfriend Comes Back, Cooking, Healing, Misunderstanding
Episodes: 16
Duration: 70 min.
Director: Chen Gang
Writer: Shu Ying, Hu Hui, Dai Ran
Producer: Dai Ying, Zhu Kai, Li Ying
Product Company: HERO KIDDO, ART-Z GROUP, XIN SHI XIANG
Released Date: 2022-02-14
Watch On: MGTV, Viki, MGTV Drama Channel
Cast
Synopsis
In order to promote his company, Yu Hao, the owner of a fresh food platform, sponsored and participated in a food show.
But to save time, he asked a substitute on the show to make the dishes.
Yu Hao's behavior angered the program, who designed to expose the fact, causing Yu Hao's fresh food company to be attacked by public opinion.
At the critical moment, the director of the PR team left because of Yu Hao's bad temper.
Su Kelan, who loves family and food, temporarily took over the mess of the public relations department, and cleverly eased the conflict between Yu Hao and the program, convincing Yu Hao to stop cheating the audience.
She became Yu Hao's cooking teacher and gradually opened his heart.
She found out that the mean and indifferent Yu Hao is actually a gentle person at heart, but he is not good at getting along with people because of a family change in his childhood.
Su Kelan entered Yu Hao's kitchen and brought the warmth of "fireworks" into his life, not only teaching him cooking skills but also letting him learn to communicate and get along with others through food.
In the end, Yu Hao reconciled with his family and fell in love with Su Kelan, who helped her along the way, and they got married finally.
Reviews
You May Also Like
Related Posts