Brilliant Class 8 – Chen Xuedong, Karlina Zhang
Brilliant Class 8 is an urban school comedy directed by Chen Anjun, starring Chen Xuedong, Zhang Jianing, Zhang Li, Richards Wang Ruichang, Bian Cheng, and Merxat Yalkun.

The drama tells the story of Xiang Dongnan, a superstar in trouble, who becomes a music teacher and class teacher at school, and grows up together with English teacher Su Qi and the students of senior class 8.
Details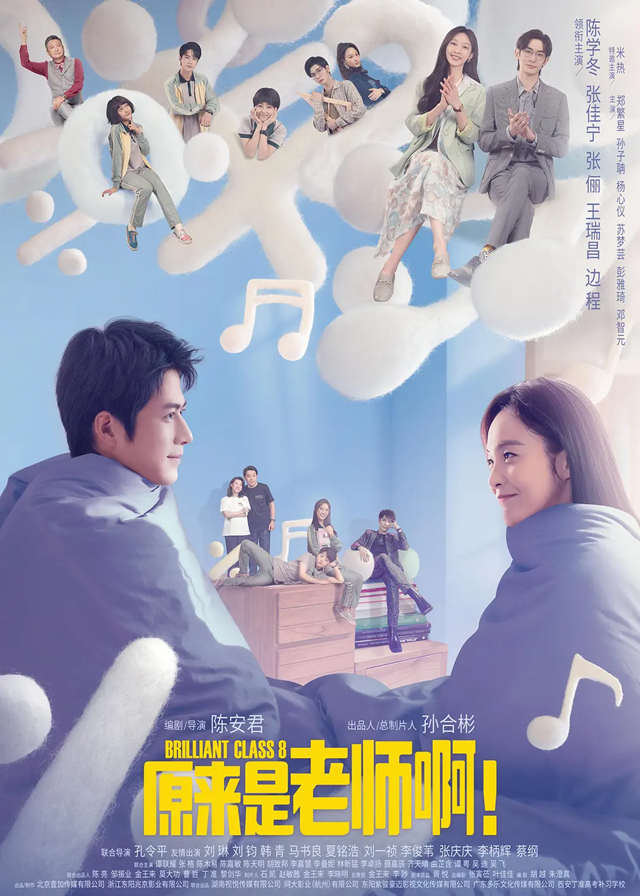 English Title: Brilliant Class 8
Chinese Title: 原来是老师啊!
Genre: Urban, Romance, School, Youth
Tag: Enemies to Lovers, Slow Burn Romance, Multiple Couples, Teacher Female Lead, Musician Male Lead, Happy Ending
Episodes: 40
Duration: 45 min.
Director: Chen Anjun, Kong Lingping
Writer: Xu Yue, Zhang Yanli, Ye Jiajia, Hu Yue, Zhu Chengzhen
Producer: Sun Hebin
Product Company: ONEPLUS MEIDA, Zhejiang Dongyang Zhaojing Film
Released Date: 2022-04-01
Broadcast Website: iQIYI, Viki, NewTV热播剧场 Hit Drama
Cast
Synopsis
The former popular singer Xiang Dongnan was down and out.
When he received a reality show invitation to return to high school as a music teacher, he encountered a serious and hardworking English teacher, Su Qi.
The classroom teacher battle is about to start, how can they seek common ground while preserving differences?
What challenges will the appearance of the mysterious teacher Su Man bring to their school life?
Will Lin Sheng, the best assistant of Xiang Dongnan, be able to make his career rebound from the bottom?
The "battle" between the senior class 8 teachers and the student team represented by Yin Xingyao is about to take place.
Reviews
You May Also Like
Related Posts