A Love So Romantic – Yang Zhiwen, Ye Shengjia
A Love So Romantic is a romantic comedy directed by Dai Lu, starring Yang Zhiwen and Ye Shengjia, with Zhao Tianyu and Yu Shuxin in special roles.

The drama tells a funny romantic story about a flower girl and a cool young master. 
Details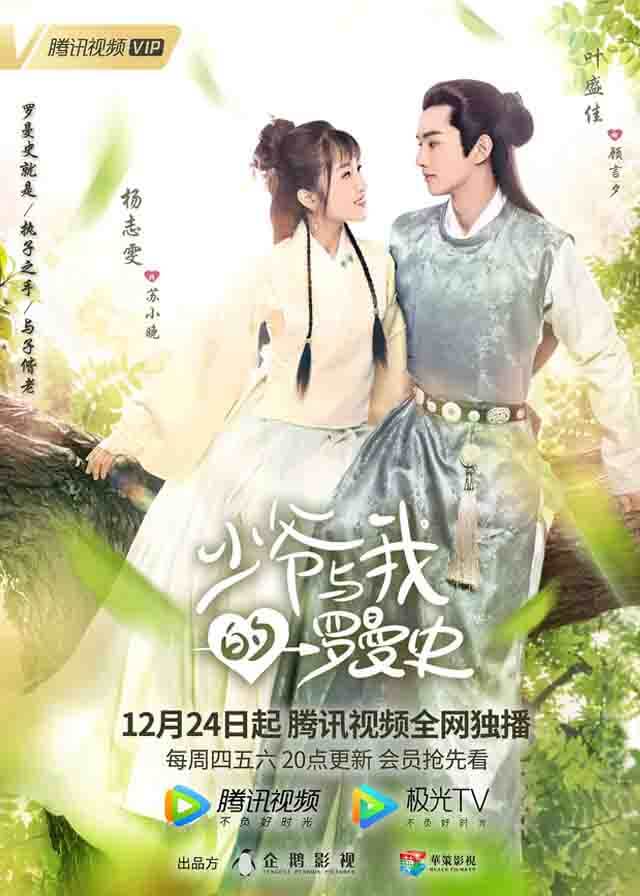 English Title: A Love So Romantic
Chinese Title: 少爷与我的罗曼史
Genre: Historical, Romance, Comedy
Tag: Hardworking Male Lead, First Love, Love Triangle, Mistaken Identity, Female Chases Male First, Enemies to Lovers
Episodes: 32
Duration: 40 min.
Director: Dai Lu
Writer: Huang Mengting, Luo Yanbing
Product Company: Tencent Penguin Pictures, Huace Film&TV
Released Date: 2020-12-24
Broadcast Website: Viki, WeTV, Huace
Cast
Synopsis
Su Xiaowan, a flower seller who is good at cheating, accidentally makes a "brother-sister contract" with Gu Yanxi, the eldest son of the jewelry family, and thus takes on the role of Gu Wan'er, the younger sister of Gu Yanxi and the eldest daughter of the family.
However, this change is not as good as Su Xiaowei thought. Gu Yanxi is a sharp tongue, scheming "brother".Su Xiaowan can only fight against him.
Although the road is difficult, fortunately, there is a warm-hearted second brother Gu Ziqian always accompanies Su Xiaowan and cares about her. but Gu Ziqian's care seems to be more than the brotherhood.
What's worse, in getting along with the two brothers, Su Xiaowan finds herself falling into a love deeper and deeper with the most hated brother Gu Yanxi.
Reviews
You May Also Like
Related Posts