The Legend of Xiao Zhuang – Jing Tian, Geng Le, Nie Yuan
The Legend of Xiao Zhuang is a historical Qing dynasty drama co-directed by Chen Jialin and Wu Song, led by Jing Tian, Geng Le, and Nie Yuan, co-starring Jiang Linjing, Hui Yinghong, and Yu Rongguang.
The drama follows the life of Empress Xiao Zhuang Wen, from a Mongolian princess of Kerqin to the Empress Dowager of the Qing Dynasty, and her transformation from a naive teenage girl to a legendary woman through the years.
Details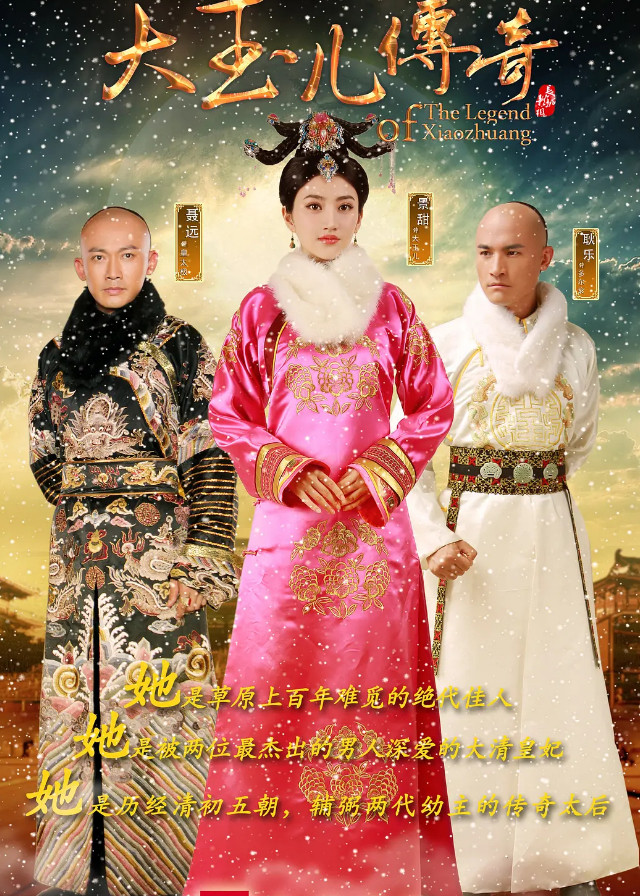 English Title: The Legend of Xiao Zhuang
Chinese Title: 大玉儿传奇
Genre: Historical, Romance, Drama
Tag: Qing Dynasty, Multiple Mains, Empress Female Lead, Emperor Male Lead, Historical Fiction, Historical Figure
Episodes: 81
Duration: 45 min.
Director: Chen Jialin, Wu Song
Writer: Zhou Hui, Xiao Xiangyun
Released Date: 2015-11-14
Boradcast Website: Chinese Drama HQ, NewTV热播剧场 Hit Drama
Cast
Synopsis
The princess of Kerqin, Da Yu Er, dreamed of a life of eagle-like freedom on the grasslands with her beloved, but fate thrust her into the storms of history.
Da Yu Er loved Duo Er Gun, but by mistake, she married Huang Tai Ji.
She was destined to be the queen of the world, but she was also destined to experience the vicissitudes of the world.
Throughout her life, she never faded from her love for Duo Er Gun, but she was also always mindful of her responsibilities.
While favor and glory came one after another, she struggled painfully between politics and emotion.
From Concubine Zhuang to Queen Mother to Grandma-empress, Da Yu ER lived through three dynasties in the early Qing Dynasty, assisted two generations of young masters, pushing the wheels of the times forward with her unique breadth of mind and vigor.
You May Also Like
Related Posts