Refinement of Faith – Zhao Yingzi, Liu Wei
Refinement of Faith is a revolutionary drama directed by Mao Weining, starring Wang Lei, Zhao Yingzi, Liu Wei, Xia Dejun, Zhu Gang Ri Yao, Dong Li, Zhao Zhiwei, and Liu Ye, with special appearances by Wang Han, Chen Xiao, and Li Zefeng.
Details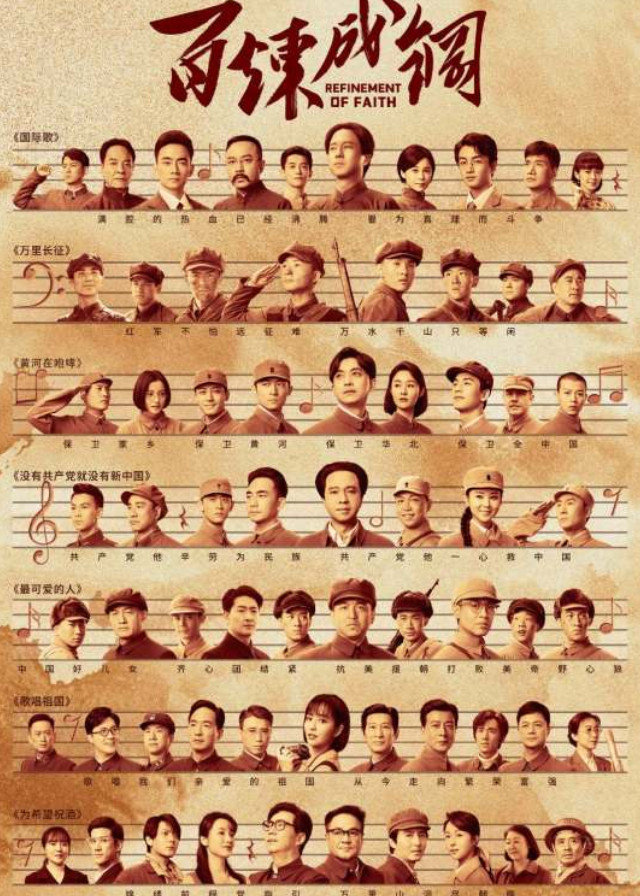 English Title: Refinement of Faith
Chinese Title: 百炼成钢
Genre: Political, War, Drama
Tag: Revolution
Episodes: 45
Duration: 45 min.
Director: Mao Weining
Writer: Wang Chenggang, Hao Yan, Liu Xiuwen, Hu Jian
Producer: He Jin, Ren Xu, Fang Fang, Yang Bei, Zhou En
Product Company: MGTV
Released Date: 2021-06-13
Broadcast Website: MGTV
Cast
Synopsis
Taking the glorious history of the founding of the Communist Party of China in its centenary year as the main axis, the eight sections are linked together through eight classic songs.
The first section, "International Song", tells the story of revolutionaries who joined hands to save the people from the fire and build the Party.
The second section, "The Long March", tells the story of the heroic feat and faith of the Red Army, which was not afraid of the difficulties of a long march.
The third section, "The Yellow River Roars", highlights the Communist Party's mission as the mainstay of the war against Japan.
The fourth section, "Without the Communist Party, There Would Be No New China", depicts the story of the Party breaking through the darkness before the dawn and liberating the whole of China with the support of the whole nation.
The fifth section, "The Loveliest People", tells the story of the great internationalist sentiments of the Chinese People's Volunteers on the battlefield of anti-American aid to Korea.
The sixth section, "Singing for the Motherland," focuses on the glorious achievements of the "two bombs and one star" during the development and construction of new China.
The seventh section, "A Toast to Hope", takes the steel industry as the starting point and shows the story of reform and innovation of the Chinese Communist Party leading the nation during the period of reform and opening up.
The eighth section, "Young Friends Come to Meet", tells the story of the Chinese Communists in the new era who have always been true to their original spirit and courageous in their commitment, and who have splashed their youth, blood and lives on the road to poverty alleviation.
Reviews
You May Also Like
Related Posts