Palace of Devotion – Liu Tao, Vic Chou
Palace of Devotion is a historical drama directed by Li Shaohong, led by Liu Tao and Vic Chou, co-starring Gui Yalei and Zhao Wenxuan.
The drama is based on the love story of Liu E and Zhao Heng, with the historical background of "the reign of Xianping" and "the reign of Emperor Ren", and tells the story of the interdependence and mutual control between famous ministers, clans and neighboring countries during the era of Emperor Zhenzong of the Northern Song Dynasty from 985 to 1033 AD.
Details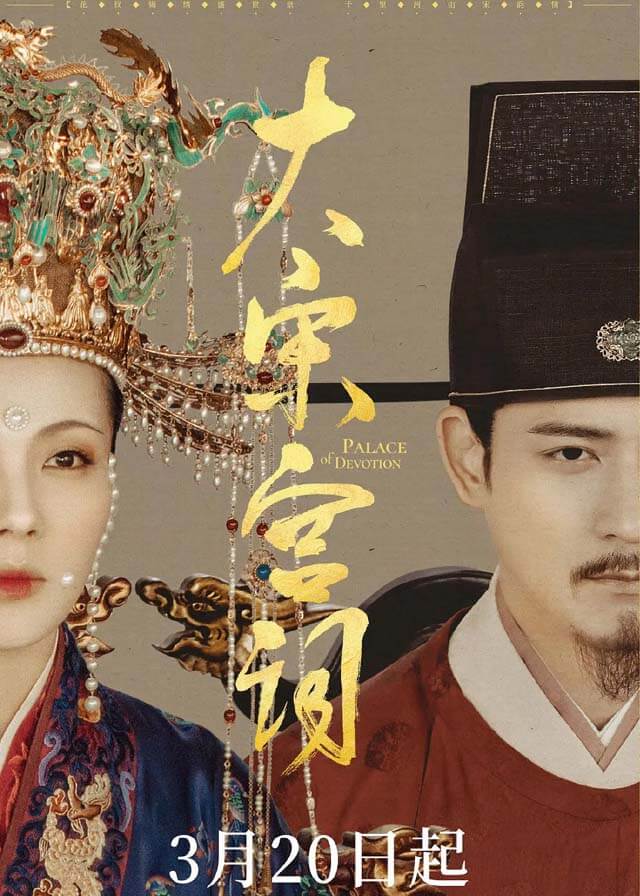 English Title: Palace of Devotion
Chinese Title: 大宋宫词
Genre: Historical, Political
Tag: Song Dynasty, Royalty, Historical Fiction, Empress Female Lead, Strong Female Lead, Emperor Male Lead
Episodes: 61
Duration: 45 min.
Director: Li Shaohong
Writer: Zhang Yongchen, Zhao Xiaopeng, Tang Rong
Product Company: ROSAT, RUYI FILMS, Beijing JingxiCulture &Tourism Co., Ltd., iQIYI
Released Date: 2021-03-20
Broadcast Website: iQIYI
Cast
Synopsis
The "Golden Box Alliance" left behind during the time of Zhao Kuangyin triggers the battle for imperial power in the Song court.
Liu E (Liu Tao), an orphan girl from Shu Land, falls in love with the third prince Zhao Heng (Zhou Yumin) during the war.
They go through the rebellion of the King of Qin, the three sons take over the power, the battle of Stillwater, and finally come to the end of their suffering.
Liu E is a talented and respectful person who is trusted by Zhao Heng.
Zhao Heng loses several sons one after another, the succession of the throne is imminent.
The ministers and clans in the dynasty are fighting with each other for their own interests, or secretly allied.
The Song dynasty is facing an unprecedented crisis.
At the time of Zhao Heng's death, Emperor Renzong is young and weak.
Liu E, in order to fulfill the wishes of Zhao Heng, takes charge of the dynasty behind the curtain closed, puts an end to the party disputes, builts water conservancy, establishes welfare, properly resolves the disputes and anxiety of the neighboring ethnic groups, and boldly employes new talents such as Fan Zhongyan, Yanshu, and Su Xun.
This lays a solid foundation for the reign of Emperor Renzong for more than forty years after Emperor Renzong came to power.
Reviews
You May Also Like
Related Posts