Love in Time – Ren Yankai, Serena Cheng
Love in Time is an urban romantic drama directed by Chen Shiyi, led by Ming Ren Yankai and Serena Cheng Xiaomeng, and co-starring Bernard, Pan Yiyi, Liu Yuqi, Zhao Chengyu, Justin Li Junfeng, Wu You, and Jiang Yibing.

The drama is based on Tang Yu's novel "Lu Shao De Nuan Huan Xin Qi", which tells the story of Lu Boyan and Su Jian'an, who met and came together finally due to their entangled fates.
Details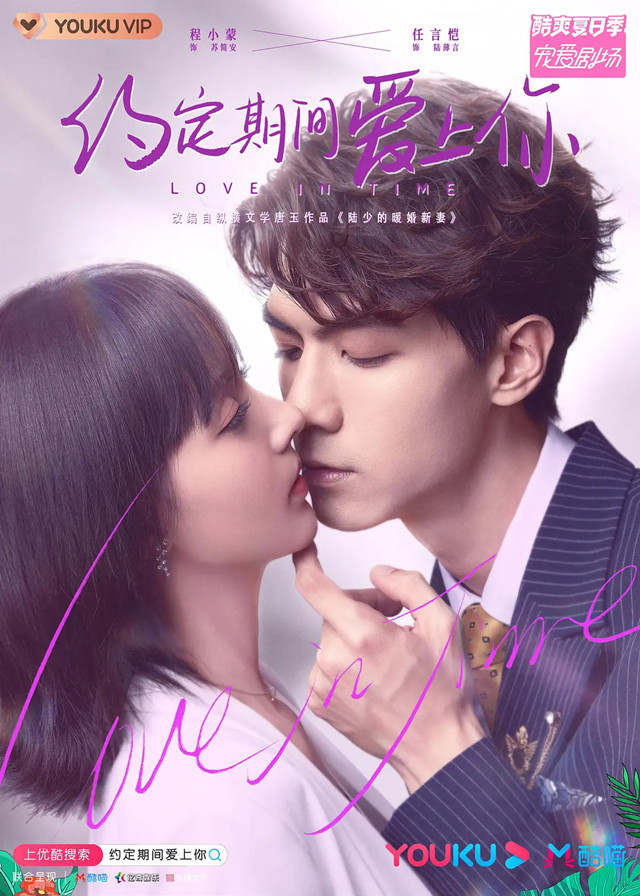 English Title: Love in Time
Chinese Title: 约定期间爱上你
Genre: Urban, Romance
Tag: Contract Relationship, Contract Marriage, Overbearing CEO, Enemies to Lovers, Steamy Kiss, Childhood Connection
Episodes: 24
Duration: 40 min.
Director: Chen Shiyi
Writer: Huo Wenda, Tian Chuan, Zhang Xianmin, Xia Jingjing, Qin Meng
Producer: Tian Chuan, Song Xuanze, Ma Li, Zhang Yi
Product Company: YOUKU, YIQI ENTERTAINMENT, Zhongheng Literature
Released Date: 2020-09-24
Watch On: Viki, Youku, Fresh Drama, Idol & Romance, Prime Video, youku.tv
Subtitle:
English, Chinese, Thai, Indonesian, Malay, Vietnamese, Spanish, Portuguese, Czech, French, German, Greek, Hebrew, Hungarian, Italian, Polish, Romanian, Turkish
Cast
Synopsis
Su Jian'an, an unfamous novel author, was caught in a family inheritance crisis.
In order to continue her dream of writing novels, she had no choice but to sign a "contract marriage" with her high school rival, Lu Boyan, who has become a boss in the investment industry.
With different characters and childhood misunderstandings, they started a "sweet cohabitation war".
At the same time, Lu Boyan also tried every possible way to intervene in Su Jian'an's novel creation, hoping that Su Jian'an would find inspiration from himself.
Their love for each other deepened during the cohabitation and creation process. But new crises from career and family came.
In the end, they overcame many obstacles to usher in the success of love and career.
Reviews
You May Also Like
Related Posts