Unrequited Love – Zhu Yanmanzi, Zhao Shunran
Unrequited Love is a youth school romantic web drama directed by Ding Pei and Bayue Chang'an, led by Zhu Yan Man Zi and Zhao Shunran, co-starring Shen Yu, Zhang Yizhi, Meng Qin, Zhang Zhehao, He Meixuan, Yuan Bai Zi Hui.

The drama is based on Bayue Chang'an's full-length novel "Ju Sheng Huai Nan, An Lian", which tells the story of Luo Zhi who has a crush on her high school classmate, Sheng Huainan. She can't confess her love because of misunderstandings and family reasons.
Details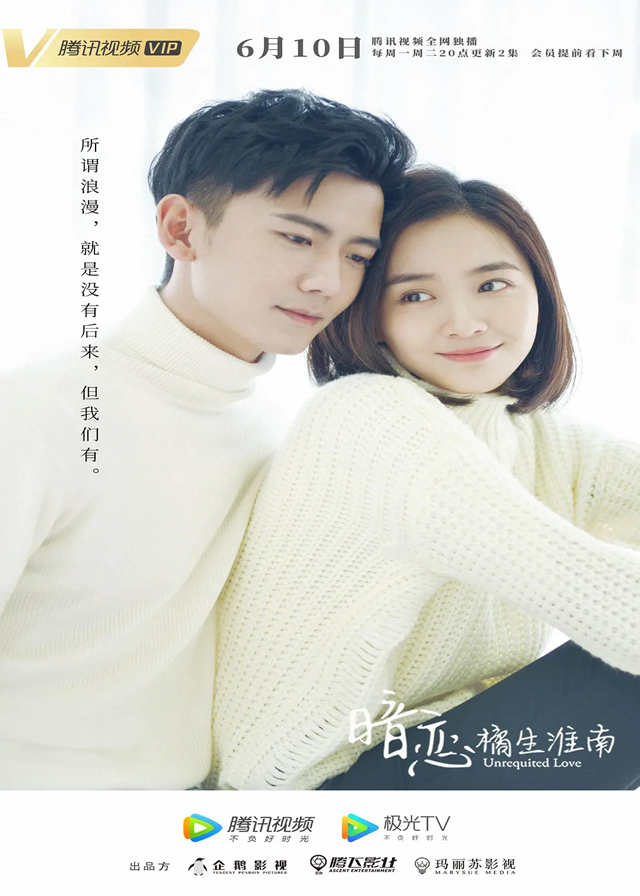 English Title: Unrequited Love
Chinese Title: 暗恋橘生淮南
Genre: Youth, School, Romance
Tag: Female Chases Male First, Misunderstanding, Calm Female Lead, First Love, Nice Male Lead, Student
Episodes: 24
Duration: 45 min.
Director: Ding Pei, Bayue Chang'an
Writer: Bayue Chang'an
Product Company: TENCENT PENGUIN PICTURES, ASCENT ENTERTAINMENT, MARYSUE MEDIA
Released Date: 2019-06-10
Watch On: Netfilx
Cast
Synopsis
Sheng Huainan, a school hunk at Peking University, met Luo Zhi, an ordinary girl from the same school, by chance.
He was attracted to her, but a text message from his ex-girlfriend told him that Luo Zhi was the "culprit" who ruined his last relationship.
In the process of tracking down the truth, he discovered the history of Luo Zhi's crush on him.
Luo Zhi has had complicated feelings for Sheng Huainan for more than a decade. She was attracted to him because of his excellence, but also eager to surpass him because of some reasons from both families in the past.
Because of Sheng Huainan, Luo Zhi followed him all the way and got into the best university.
In the end, Luo Zhi and Sheng Huainan finally came together. But the process of growing up and the pressure of reality made them undergo many tests.
Reviews
You May Also Like
Related Posts