Sweet First Love – Ren Shihao, Kabby Hui
Sweet First Love is a youthful romantic drama directed by Guo Huizhong, starring Ryan Ren Shihao, Kabby Hui(Xu Yating), Zheng Fanxing, Gao Yufei, Kevin Xiao Kaizhong, Liu Zheer, Wu Mansi, Fan Qiwen, and Chu Qian.

The drama is adapted from Tong Tong's novel "Yu Shuai Di Tong Ju De Ri Zi". The story is about sister Su Nianfeng who has lost some of her memories in a car accident and lives together with her bossy but brilliant "Evil brother" Su Muyun, who has a sharp tongue.
Details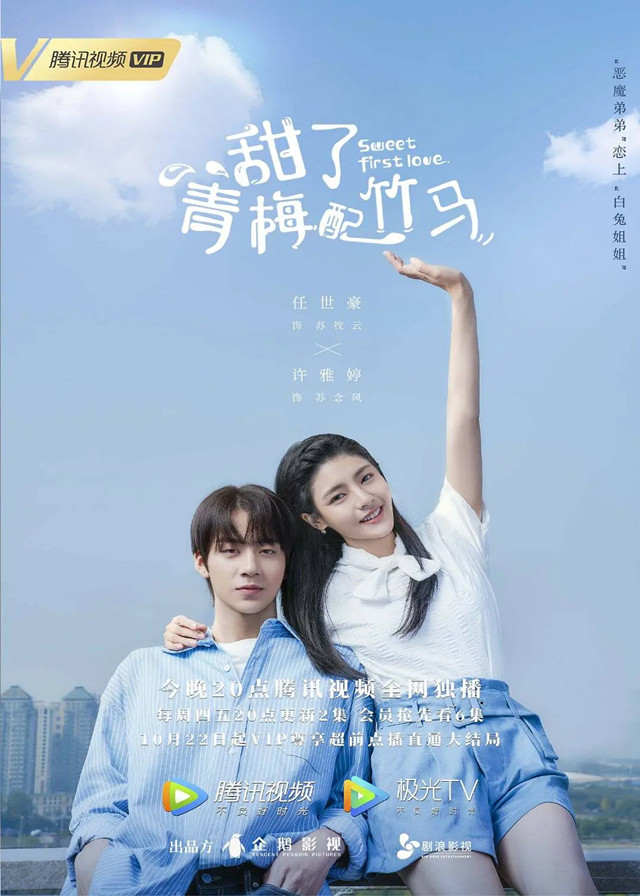 English Title: Sweet First Love
Chinese Title: 甜了青梅配竹马
Genre: Youth, Romance
Tag: Cohabitation, Cold Male Lead, Orphan Female Lead, Love Triangle, Smart Male Lead, Secret Crush
Episodes: 24
Duration: 45 min.
Director: Guo Huizhong
Writer: Feng Hui, Dong Qiuyan
Producer: Zhang Meng, Wei Xiaoying, Fang Fang
Product Company: TENCENT PENGUIN PICTURES, BIG WAVE ENTERTAINMENT
Released Date: 2020-10-08
Broadcast Website: WeTV, TencentVideo
Cast
Synopsis
Zhuo Yifeng witnessed the death of both parents in a car accident when she was seven years old. She was so shocked that she got selective amnesia and forgot about the experience.
She was entrusted by her parents to their best friend Su Zi Jian and grew up with Su Muyun, who was two years younger.
After she grew up, Su Muyun was a popular figure in the school, while Su Nianfeng was just an ordinary girl.
In her senior year, influenced by his friend Le Tiyin, who was suffering from a strange disease, Su Nianfeng decided to enroll in medical school.
On the surface, Su Muyun was against Su Nianfeng, but in reality, he was silently protecting her to help her realize her dream.
The ideal college life unfolded as expected, the school belle Ouyang Mingxue exposed the so-called truth to disrupt everything, resulting in Su Nianfeng misunderstanding Su family.
To find the truth, with the help of Le Tiyin and Ouyang Yu, Su Nian Feng left the Su family to live independently. But she found Su Muyun's deep affection for her.
Liu Zihui, a good friend of Su Nianqfeng who had a crush on Su Muyun, also perceived Su Muyun's intention and chose to guard the friendship.
A contract, unraveling the "truth" of the car accident back then, lifting the misunderstanding between the two families.
In Su Muyun's relentless pursuit and the assistance of friends, Su Nianfeng finally let go of the knot and came together with the boy who was her childhood sweetheart.
Reviews
You May Also Like
Related Posts