My Dear Brothers – Zhao Yingbo, Wu Qianying, Dai Yunfan
My Dear Brothers is an ancient immortal comedy directed by Qiu Yu, starring Zhao Yingbo, Dai Yunfan, and Wu Qianying, co-starring Zhao Wenhao, Dai Yaqi, Liu Zhiwei, Zhang Zijian, Wu Yijia, Liu Yinran, and Jiao Hao, with Gao Ziqi in a special role.

The drama is adapted from Youqian's novel "Jia Xiong You Zai Zuo Si / 家兄又在作死". The main story is about the intelligent and cute genius girl Shi Xia, in order to look for her missing brother, who accidentally came into the strange world of immortals. It started a warm and hilarious story when getting along with Shi Dong, the sister-controlled devil brother, and Hou Chi, the Yu Hua faction.
Details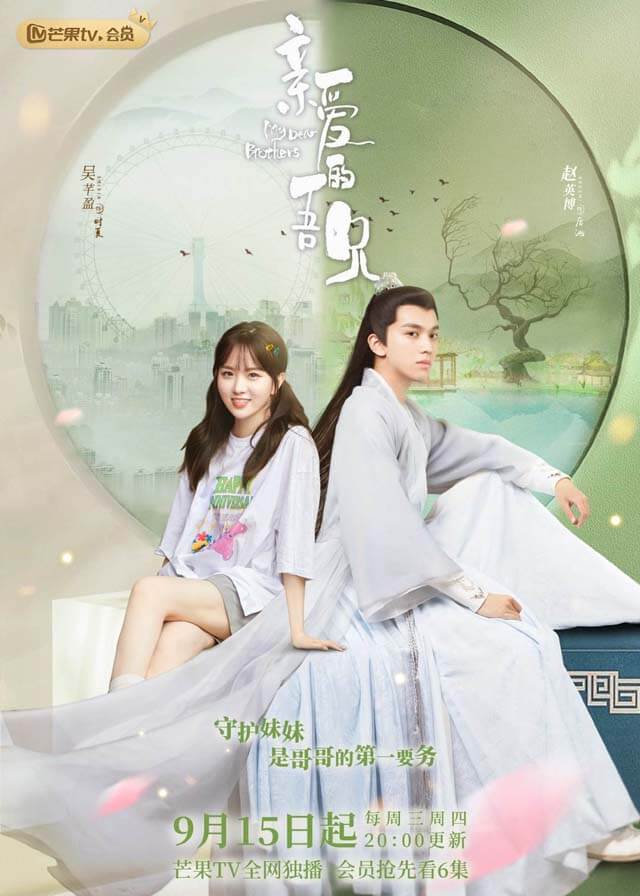 English Title: My Dear Brothers
Chinese Title: 亲爱的吾兄
Genre: Romance, Historical, Fantasy, Immortal
Tag: Xianxia, Brother-Sister Relationship, Crossworlds Traveler, Rivalry, Demon, Happy Ending
Episodes: 35
Duration: 45 min.
Director: Qiu Yu
Writer: Yu Jie, Gao Hui, Song Yang, Zhu Xuan, Zheng Jinfeng
Producer: Luo Xiaoli, Li Sili, Zhang Yaping
Product Company: Mango TV, Azure Media
Released Date: 2021-09-15
Boradcast Website: MGTV, Viki, MGTV Drama Channel
Cast
Synopsis
The drama tells the story of intelligent and cute girl Shi Xia, in order to find her missing brother accidentally came into the strange world of immortals.
Since then start a hilarious warmth daily life between She and the devil master Shi Dong and the Yu Hua faction's Hou Chi, the two brothers together to "protect" the sister.
You May Also Like
Related Posts