Farewell Vivian – Jin Xi, Hong Junjia
Farewell Vivian is a romantic drama directed by Hou Jue, led by Jin Xi and Hong Junjia, co-starring Li Bowen, Zeng Liyao, Hu Caihong, Ai Jinghan, Hou Li, Lin Kaijie, and Tian Shuang.
 It is adapted from the novel of the same name "告别薇安" by Anni Baobei. The drama tells the love story of Chen Anan, an illustrator who does everything by feeling, and Lin Yu, a walking "planner" IT master.
Details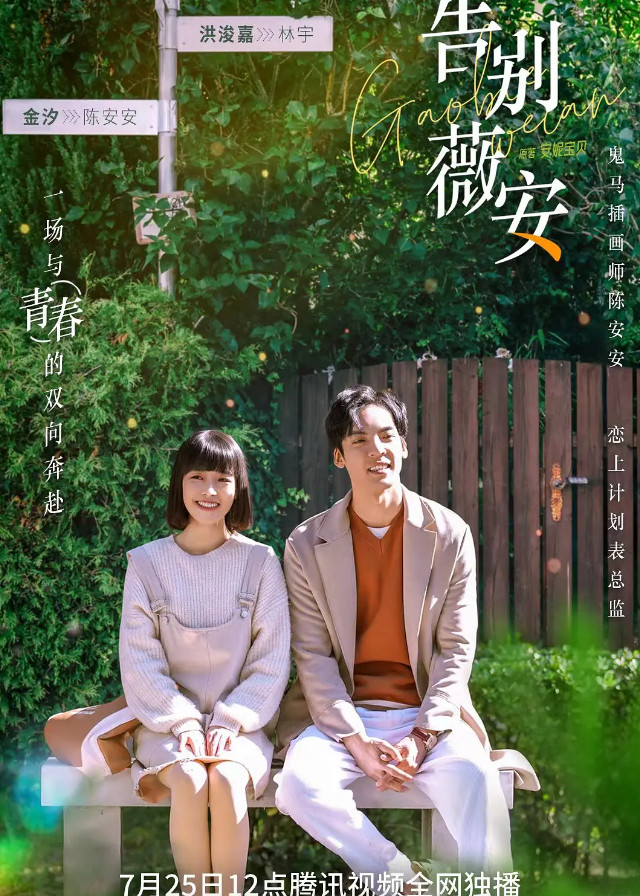 Cast
Synopsis
Lin Yu, an IT elite, is a meticulous "planner". Chen Anan, a freelance illustrator, is an unrestrained "wild animal". They had a brief and cheerful time together as deskmates during their senior year.
Eight years after their separation, Lin Yu's peaceful life is once again interrupted by Chen An'an's brutal intrusion. On 32 Anheli Street, the former tablemates have become roommates, disliking and warming each other under the same roof.
They accidentally meet in the most fashionable Internet chat room at the beginning of the century under the pseudonym "Vivian", a virtual persona that becomes a hidden bridge for them to open their hearts and release themselves.
What they didn't know was that this amazing relationship with "Vivian" was actually born eight years ago and has been pulling their fate.
Behind the happy persona of "Vivian", there is a reflection of the shadows that Lin Yu and Chen Anan each carry from their families, as well as their hopes for self-change.
This romantic and healing love is always tied to the name of "Vivian", but they will eventually say goodbye to Vivian. To say goodbye to Vivian is to say goodbye to themselves, to embrace a better each other.