Falling in Love with a Rival – Feng Jianyu, Wang Qing
Falling in Love with a Rival is adapted from Chai Jidan's BL novel "逆袭", directed by Wang Xingchen and An Peng, starring Feng Jianyu, Wang Qing, Zhang Jiexi, Chen Qiushi, and Cai Zhao.

The drama tells the story of a poor loser who stole his ex-girlfriend's current boyfriend after he got successful.
Details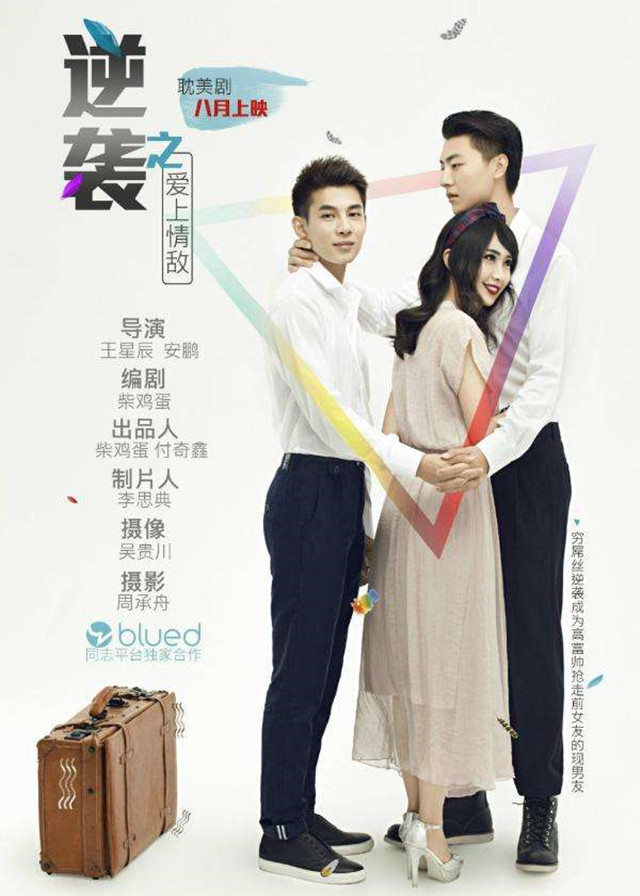 English Title: Falling in Love with a Rival
Chinese Title: 逆袭, 逆袭之爱上情敌
Genre: Romance, Comedy
Tag: Gay Romance, Bromance, Love Triangle, Obsession, Mean Male Lead, Revenge
Episodes: 8
Duration: 23 min.
Director: Wang Xingchen, An Peng
Writer: Chai Jidan
Producer: Li Sidian
Product Company: Chai Jidan Studio, Beijing Cuican Baye Culture&Media
Released Date: 2015-08-09
Broadcast Website: 腾讯视频
Cast
Synopsis
Wu Suowei was a poor loser who was repeatedly disliked and insulted by his girlfriend Yue Yue, so he finally gave up his stable life and resolutely embarked on a path to start his own business and become rich.
However, a "blocking tiger" appeared on this road, the tiger was Chi Cheng, who was living in the suburbs, feeding snakes for fun without a proper job.
Later, he was forced by his father, who is an official, to go to various institutions to practice.
Wu Suowei became a peddler, Chi Cheng was a city manager. Wu Suowei was desperate to become a thief, Chi Cheng was sent by his father to become a police officer.
Even when Wu Suowei delivered to people driving violations, were catching up with the first day of Chi Cheng's traffic police.
The most damnable thing was that Wu Suowei's former girlfriend Yue Yue even followed behind Chi Cheng.
The kind-hearted Wu Suowei became a sinister, cunning, and deep-rooted "wolf" after being repeatedly traumatized, taking down the stone-hearted, cold-blooded playboy Chi Cheng in one fell swoop, and teaching him to become a loving and loyal "dog".
Reviews
You May Also Like
Related Posts