Exclusive Fairy Tale – JUN, Zhang Miaoyi
Exclusive Fairy Tale is a romantic comedy directed by Gong Yushi, starring Wen Junhui, Zhang Miaoyi, Cheng Yufeng, and Su Yi.
The drama is adapted from the novel "Tu Zi Ya Dao Wo Bian Cao / 兔子压倒窝边草" by Yi Jin.
Details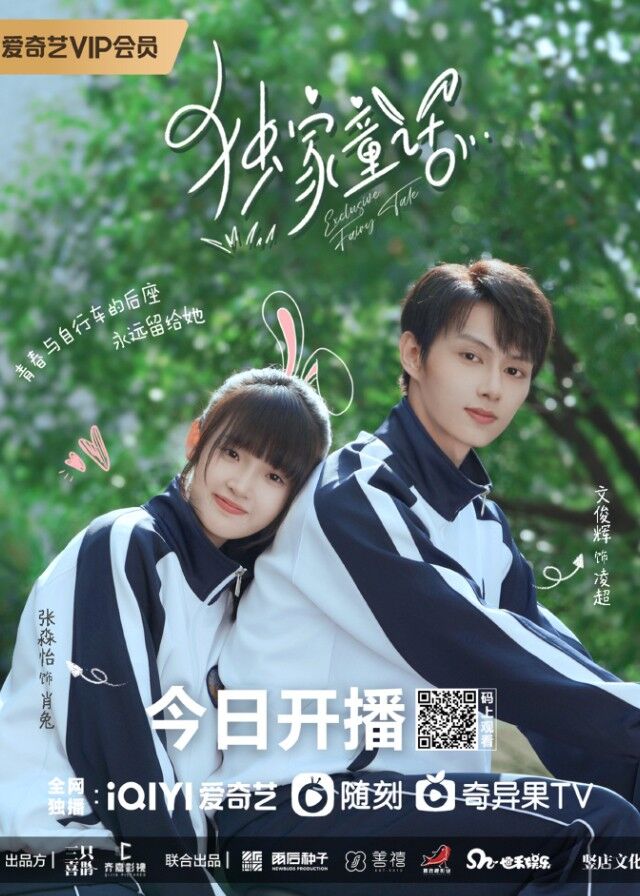 English Title: Exclusive Fairy Tale
Chinese Title: 独家童话
Other Titles: Exclusive Fairytale, 兔子压倒窝边草
Genre: Youth, Romance, Comedy, School
Tag: First Love, Coming of Age, Friends to Lovers, High School, Secret Crush, Student
Episodes: 24
Duration: 30 min.
Director: Gong Yushi
Writer: Dong Xiaojing, Ouyang Jixiao
Producer: Yu Rumao, Yang Haitao, Li Li, Lu Yizhen, Sun Xiaomeng
Released Date: 2023-07-27
Broadcast Website: iQIYI, Viki
Cast
Synopsis
Sensitive, independent, and top student Ling Chao and cute but scatterbrained underachiever Xiao Tu have known each other since birth.
Growing up together as childhood sweethearts, they experience a love-hate relationship, and their feelings for each other are gradually deep. With the help and support of their parents and friends, they finally sweetly fall in love.
Reviews
Ivory

Exclusive Fairytale - A Dreamlike Romance

Exclusive Fairytale with a storyline that truly hits the mark, just like a beautiful and fantastical dream.

Childhood sweethearts, two innocent souls; best friends by each other's side, with the person they love living nearby; a love supported and cherished by both sets of parents.

We will never be apart, your name being the first words spoken, growing up together from the moment we were born, knowing and supporting each other, from diapers to wedding gowns, destined to be together, in a dreamlike little world.

This is what ideal love should be, right?
You May Also Like
Related Posts