SWAP – Yao Wang, Yang Yeming, Dong Youlin, Ben Xi
SWAP is a youthful romantic drama directed by Shan Xiaotian, starring Yao Wang, Yang Yeming, Dong Youlin, Ben Xi, and Ye Yuhan.

The drama is adapted from the BL novel "Cuo Sheng De Tong Kong" by Wang Pao Xiao Pao and tells a series of stories after the courier Guang Guang meets Yuwen Youtian, Xiao Ran, Huangfu Fei, and Yuan Wan.
Details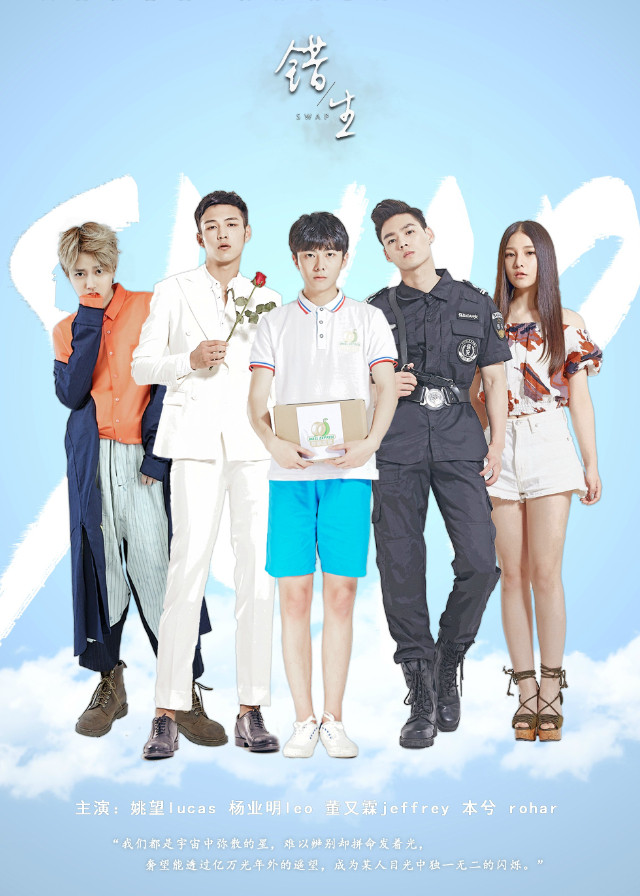 Cast
Synopsis
For many years, Yuwen Youtian has been deep in the pain of losing his little brother, and it is difficult to get over it. One day, Yuwen Youtian encountered Guang Guang, a courier, at the entertainment company he ran.
Guang Guang was not only cute, but also looked a bit like Yuwen Youtian's brother, and other actions were also particularly similar to his brother, so he doted on him.
He gradually transferred his thoughts about his brother to Guang Guang.
At the same time, Guang Guang befriended the security guard Xiao Ran because of the loss of the delivery truck, Xiao Ran felt that the hard-working Guang Guang was very similar to him, so he also had a compassionate sympathy for Guang Guang, and was very concerned on him.
Gradually, Yuwen Youtian felt Xiao Ran's fondness for Guang Guang, although Xiao Ran may not have other thoughts, purely a sense of pity, Yuwen Youtian's growing possessiveness for Guang Guang made him very mindful of Xiao Ran's existence.
Then, a "battle for brother" between Yuwen Youtian and Xiao Ran naturally was inevitable ……
At this point, an unbelievable accident let a girl called Yuan Wan, who Yuwen has always had a crush on, swap souls with Guang Guang. Yuwen Youtian was deeply confused by Yuan Wan's soul in Guang Guang's body.
Reviews
You May Also Like
Related Posts