Nice to Meet You – Zhang Mingen, Janice Man
Nice to Meet You is an inspirational urban romantic drama directed by Wang Ziming and Tien Jen Huang, starring Zhang Mingen, Janice Man, Wei Qianxiang, Tang Mengjia, Ma Yashu, Ji Xiaobing, Zhan Xiaonan.

The drama is adapted from the novel "Jie Shen Zi Hao" by Wei Zai, which tells the story of Gao Jie and Yu Zhi, who meet over jewelry, break up after a family struggle, and eventually come together again to regain their love because of their common artistic philosophy.
Details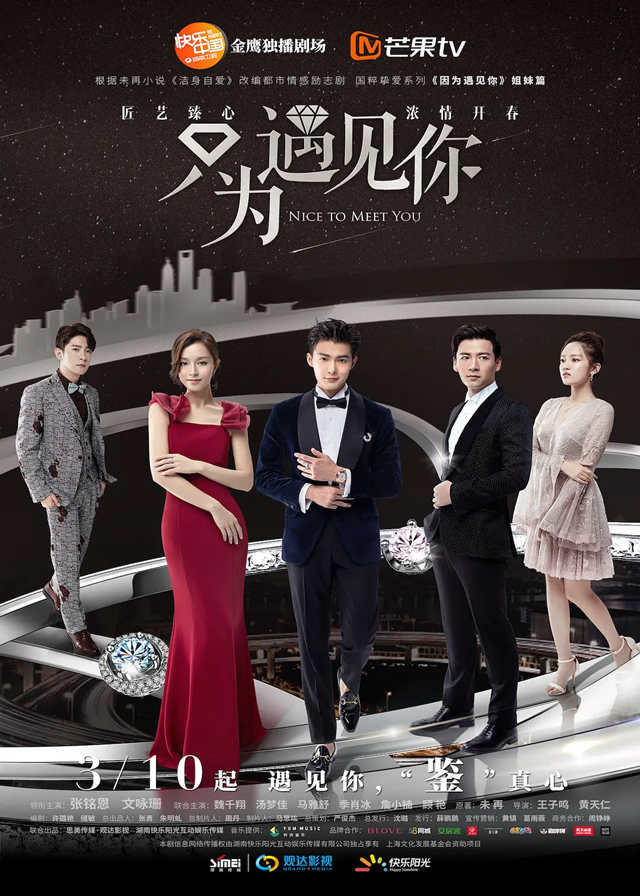 English Title: Nice to Meet You
Chinese Title: 只为遇见你
Genre: Urban, Romance
Episodes: 53
Duration: 45 min.
Director: Wang Ziming, Tien Jen Huang
Writer: Xu Luyan, Chu Min,Feng Fugui, Wang Han, Wei Zai, Jian An
Product Company: MGTV, GRAND MEDIA
Broadcasting Website: YOUKU, MGTV Drama Channel, Viki, MZTV Exclusive, KUKAN
Released Date: March 10, 2019
Cast

Zhang Mingen as Yu Zhi

Janice Man
as Gao Jie

Wei Qianxiang as Yu Yi

Tang Mengjia as Gao Hui

Ma Yashu as Mu Ziyun

Ji Xiaobing
as Si Cheng

Zhan Xiaolan as Wu Xiaoci

Gu Yan as Lin Xue

Chang Cheng as Gao Hai

Qian Jie as Pan Yue
Synopsis
Gao Jie dreamed of becoming a jewelry designer and traveled to South America to work in a mine, where she had a romantic encounter with Yu Zhi, the heir to Ruihua Gold.
After returning to China, Gao Jie's career was hindered. In order to continue her dream, Gao Jie entered Ruihua.
Ruihua is a long-established gold jewelry company in China, but it is gradually declining due to the impact of Western-style jewelry brands.
In order to revitalize Ruihua, Yu Zhi boldly broke through the traditional business and set up an inlay group to focus on Western-style jewelry.
After Gao Jie entered Ruihua, she gradually discovered the beauty of traditional Chinese craft jewelry and established her own design style that combined East and West, while influencing Yu Zhi to develop the idea of innovating and promoting traditional Chinese craftsmanship.
However, they broke up because Yu Zhi's stepmother, Mu Ziyun, was Gao Jie's aunt.
Later, Mu Ziyun bought Ruihua and became the chairman of the board. Yu Zhi was not willing to give up and set up Jiangzhiyi on his own.
Gao Jie made an innovative design that combined traditional Chinese craftsmanship and environmental protection concepts and won the championship in an international competition.
Gao Jie joined Jiangzhiyi, working with Yu Zhi to rejuvenate traditional Chinese craft jewelry and re-establish the Ruihua brand. And they were finally married.