General's Lady – Tang Min, Caesar Wu
General's Lady is a historical youth romantic comedy directed by Wu Qiang, starring Tang Min, Caesar Wu Xize, Cao Junxiang, and Lu Jia.

The drama is based on the novel of the same name by Yanbo Jiangnan, which tells the story of Shen Jin, a "declasse girl", and Chu Xiuming, a "demon general", who know and love each other and protect the world together.
Details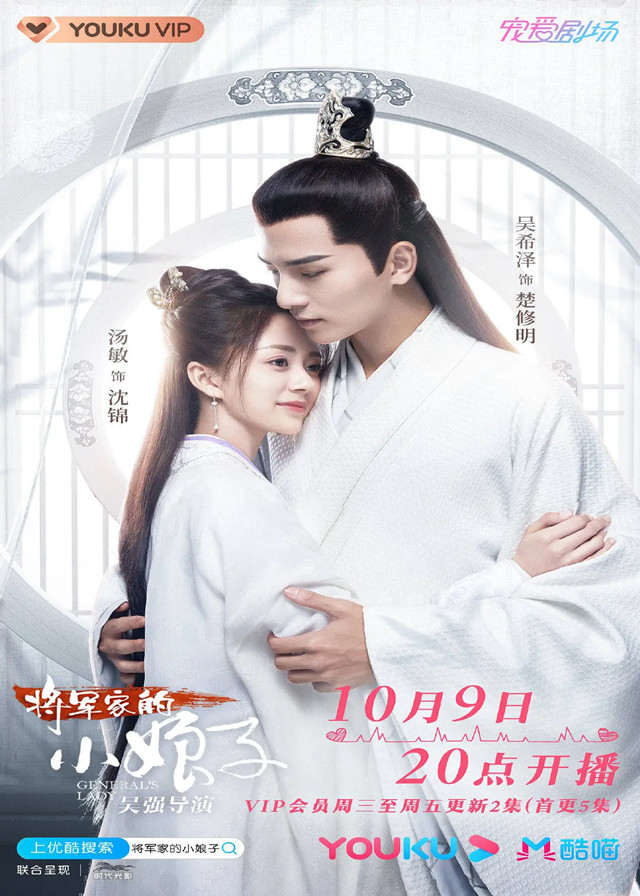 English Title: General's Lady
Chinese Title: 将军家的小娘子
Genre: Historical, Romance, Comedy
Tag: Love At First Sight, Arranged Marriage, Female Chases Male First, Cold man/Warm woman, Smart Male Lead, Steamy Kiss
Episodes: 30
Duration: 45 min.
Director: Wu Qiang
Writer: Qu Shasha, Luo Lina
Producer: Li Nan, Wang Jin, Wang Yan, Hu Lei
Product Company: YOUKU, SG-CULTURE MEDIA
Released Date: 2020-10-09
Watch On: Viki, YoYo Fun Station, YoYo English Channel, youku.tv
Subtitle:
English, Chinese, Thai, Indonesian, Malay, Vietnamese, Spanish, Portuguese, Catalan, Dutch, French, German, Greek, Hebrew, Hungarian, Hindi, Italian, Japanese, Polish, Romanian, Serbian, Slovak, Telugu
Cast
Synopsis
Shen Jin, a pampered young lady from the royal family, married far away to the border because of the emperor's grant of marriage.
She fell in love with her husband, General Chu Xiuming, at first sight, but, because of her special status, she could not successfully integrate into the army of the Chu family.
In order to gain dignity and love in a brand new environment, Shen Jin gradually puts off her delicacy and hypocrisy, and with her unique resources and good ideas, she solved problems for the soldiers at the border. She established her prestige and gains the support of the soldiers step by step.
The emperor became more and more suspicious of the Chu army and took Shen Jin's parents as hostages and gave her a secret edict to be a royal spy to monitor the Chu army.
The Chu family army and Shen Jin experienced a lot of hardships. They gained a happy marriage while defending the peace of the country.
Reviews
You May Also Like
Related Posts