Definitely Not Today – Leon Leong, Vivienne Tien
Definitely Not Today is a life, youth drama co-directed by Gu Quan and Zhang Qingfan, led by Leon Leong, Vivienne Tien, co-starring Tian Yuan, Xing Hanqing and Li Jiahao, and with a special appearance by Zeng Shaozong.

The drama tells the story of a socially fearful homebody, Mi Chong, and a rebellious girl, Zhi Liao, who heal and redeem each other in their escape journey, eventually opening their hearts, and finding their full selves in each other.
Details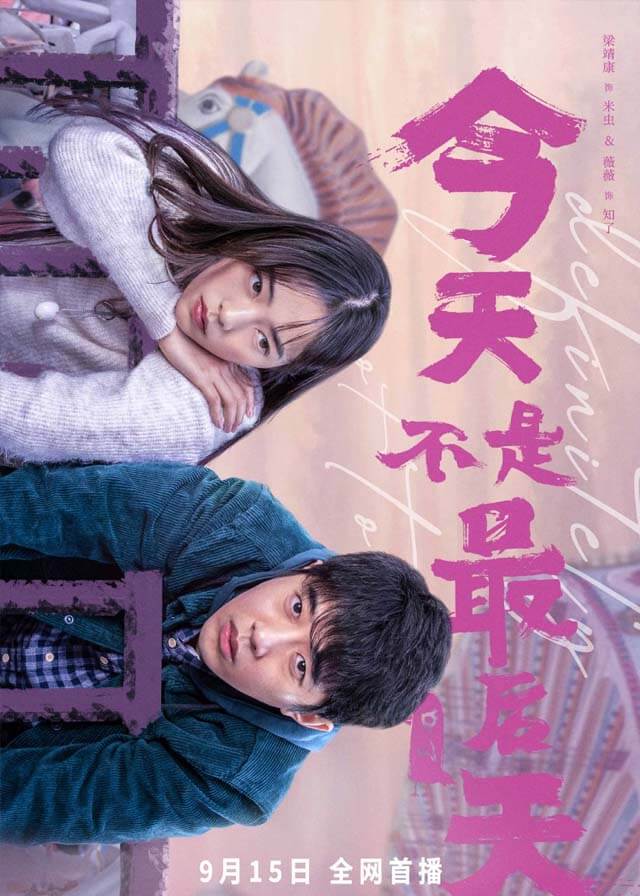 English Title: Definitely Not Today
Chinese Title: 今天不是最后一天
Genre: Youth, Life, Romance, Comedy, Family, Crime
Tag: Attempted Suicide, Male Lead Saves Female Lead, Depression, Healing, Inspired by Real Events, Blood
Episodes: 8
Duration: 20 min.
Director: Gu Quan, Zhang Qingfan
Writer: Gu Quan
Product Company: Alibaba Pictures
Released Date: 2021-09-15
Broadcast Website: Youku, Viki, youku.tv
Cast
Synopsis
The homebody Mi Chong had planned to end his useless life at the river, but because of the accidental rescue of a drowning girl Zhi Liao and interrupted the plan.
A few days later an accident, led the two people to embark on the journey of escape.
A series of unbelievable encounters entwine their destinies, while two marginalized hearts gradually come closer and closer, finding long-lost sunlight and hope from their respective gray youthful dilemmas.
Reviews
You May Also Like
Related Posts