Definitely Not Today – Leon Leong, Vivienne Tien
Definitely Not Today is a life, youth drama co-directed by Gu Quan and Zhang Qingfan, starring Leon Leong, Vivienne Tien, co-starring Tian Yuan, Xing Hanqing and Li Jiahao, and with a special appearance by Zeng Shaozong.

The drama tells the story of a socially fearful homebody, Mi Chong, and a rebellious girl, Zhi Liao, who heal and redeem each other in their escape journey, eventually opening their hearts and finding their full selves in each other.
Details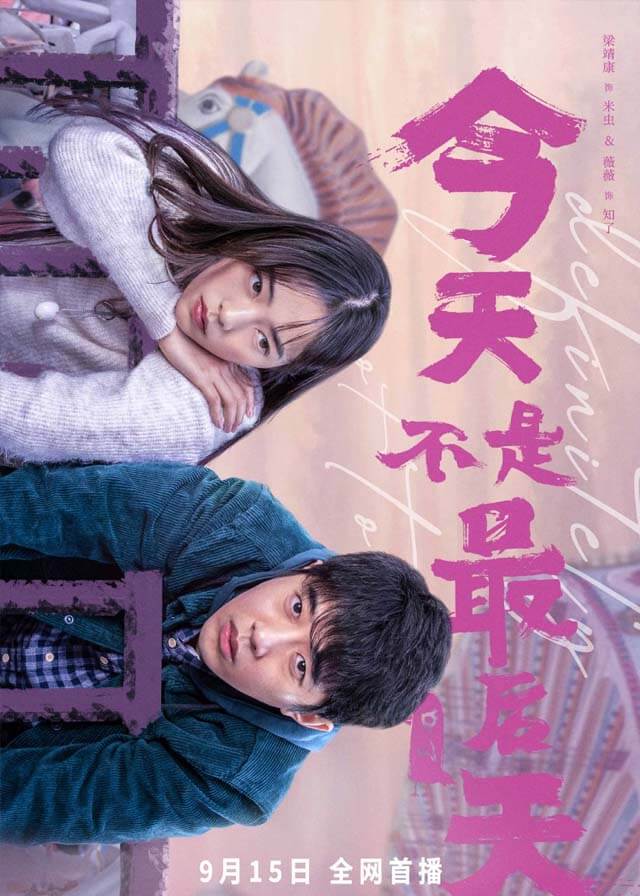 English Title: Definitely Not Today
Chinese Title: 今天不是最后一天
Genre: Life, Youth
Episodes: 8
Duration: 20 min.
Director: Gu Quan, Zhang Qingfan
Writer: Gu Quan
Product Company: Alibaba Pictures,
Broadcasting Website: Youku
Released Date: September 15, 2021
Cast

Leon Leong
as Mi Chong

Vivienne Tien
as Zhi Liao
Synopsis
The homebody Mi Chong, had planned to end his useless life at the river, but because of the accidental rescue of a drowning girl Zhi Liao and interrupted the plan.
A few days later an accident, let the two people embarked on the journey of escape.
A series of unbelievable encounters entwine their destinies, while two marginalized hearts gradually come closer and closer, finding long-lost sunlight and hope from their respective gray youthful dilemmas.