My Girl – Zhao Yiqin, Li Jiaqi
My Girl is an urban sweet drama directed by Zhong Qing and starring Zhao Yiqin, Li Jiaqi, Fan Zhixin, and He Meixuan.

The drama tells the story of Meng Hui, a scarred makeup artist with six personalities, and Shen Yi, a stingy president, who heals their wounds with love.
Details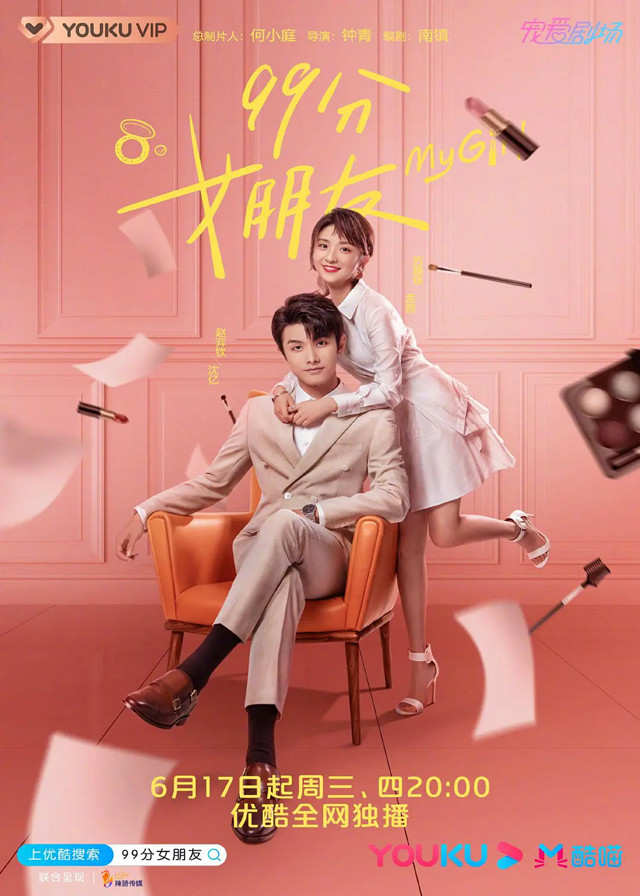 English Title: My Girl
Chinese Title: 99分女朋友
Genre: Urban, Romance
Tag: Boss-Employee Relationship, Rich Male Lead, First Love, CEO Male Lead, Multiple Couples, Meet Again
Episodes: 24
Duration: 45 min.
Director: Zhong Qing
Writer: Nan Zhen
Producer: He Xiaoting
Product Company: YOUKU, LAJIAO MEDIA
Released Date: 2020-06-17
Broadcast Website: Viki, YoYo Television Series Exclusive, YoYo English Channel, youku.tv
Cast
Synopsis
When she was young, she was mistakenly injured by him and left a scar on her face, while he evaded responsibility for his cowardice, so they grew up with their own wounds.
When they met again, she was Meng Hui, a make-up artist, and he was Shen Yi, a small employee of LS, a make-up company she thought.
A beauty show made them formally acquainted. Meng Hui learned that he was the president of LS.
After being unexpectedly stimulated, Meng Hui declared herself as the president's girlfriend by wishful thinking. It turned out that Meng Hui suffered from delusions of grandeur.
In order to get the recipe for Meng Hui's self-made foundation, Shen Yi cooperated with Meng Hui to act, pretending to be her boyfriend.
After sobering up, Meng Hui escaped from Shen Yi's world with an apology. Shen Yi discovered that he was the cause of Meng Hui's scars and was willing to give everything to retain Meng Hui by his side.
Meng Hui, spurred on by her rival in love, once again became delusional and transformed into the boss of LS, nearly ruining Shen Yi's career.
No matter what role Meng Hui was delusional into, Shen Yi never left and never gave up trying to cooperate.
When Meng Hui learned that the one who hurt her back then was Shen Yi, how to heal the wounds between them?
They started with guilt and ended with love.
Reviews
You May Also Like
Related Posts