Falling Before Fireworks – Hanna Lu, Chen Xinhai
Falling Before Fireworks is an urban romantic drama directed by Liang Guoguan and Wang Hui, starring Hanna Lu Yangyang and Chen Xinhai.
Details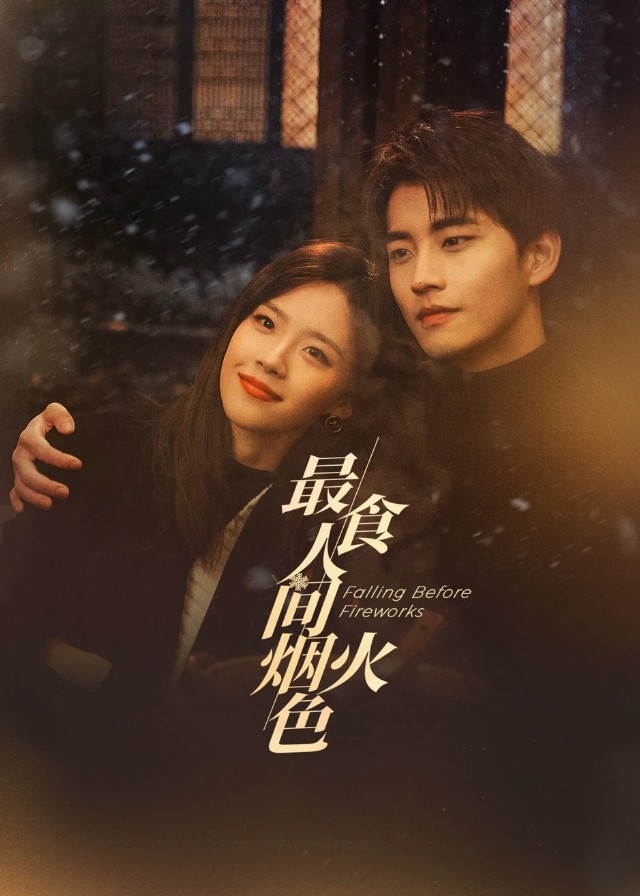 Cast
Synopsis
Si Qing, who works in a loan bank, leads a "vulgar" life in pursuit of a car, a house, and money.
In order to recover a bad loan, she meets Jing Chen, a traditional craftsman, for the first time.
One is a white-collar worker who is "kidnapped" by a debt collection mission, while the other is a cool handicraftsman who has no car, no house, and no money but owns an idyllic garden surrounded by green mountains and water.
The two of them, who do not like each other, are entwined in a "fighting each other" way.
On the day of the winter solstice, Si Qing, forgotten by her parents and isolated by her colleagues, is in a state of inner turmoil and on the verge of an adult breakdown.
Jing Chen's bowl of eggs in sweet wine, a customary winter solstice treat, is mistaken by Siqing as the only warmth for her birthday so she impulsively proposes marriage.
Jing Chen agrees to her request. However, marriage is only the beginning…
Episode Plot
The customer manager of Nan Shang Bank, Si Qing, came to a supposedly 4A-level scenic area called Jing Yuan in the wilderness to recover a debt.
She fell in love at first sight with Jing Chen, who lived there and had personally built Jing Yuan. Si Qing tried to recover the bank loan from Jing Chen's neighbor, Chen Lianzhi and suggested auctioning off the property where Chen Lianzhi lived.
However, Jing Chen coldly responded that this was collective rural land and could not be auctioned. Si Qing was repeatedly rebuffed and her infatuation from the initial attraction faded away.
Si Qing came to Jing Chen's home again in order to follow up on this matter. She interrupted Jing Chen, who was repairing his house with gold powder. An inadvertent gust of wind blew away 5g of gold powder on Jing Chen's table and also stirred up Si Qing's middle-aged woman's heart.
Si Qing successfully retrieved the debt owed by Chen Lianzhi's husband, but found out that it was the money for "the coffin" that Chen Lianzhi had obtained from her parents by forcing herself to death. Si Qing's cold-blooded manner was broken when she saw a banknote that Chen Lianzhi's parents had left for their daughter to buy clothes. She entrusted Jing Chen to return the money to Chen Lianzhi. For the first time, Jing Chen saw Si Qing's soft side. After returning to Jing Garden, he silently helped Chen Lianzhi by turning a half-finished lantern into cash to repay the loan. On the Winter Solstice, Si Qing experienced a low point in her life. On her forgotten birthday, she came to Jing Garden and, under the influence of alcohol, made the most rebellious decision of her life by proposing to Jing Chen. However, she was immediately rejected by Jing Chen.
Si Qing experienced frustration and disgust in her career and decided to resign. However, she was ultimately defeated by the pressure of her mortgage and continued to work with her "plastic" colleagues.
Jing Chen had been helping his critically ill grandfather find a lost half-scroll of calligraphy, only to find that it was in the hands of Si Qing. Si Qing intentionally made things difficult for Jing Chen by using the name "dowry" and thus gained the upper hand. It was not until she learned from Chen Lianzhi what Jing Chen had done to help her repay her loan. On New Year's Eve, Si Qing brought the half-scroll to Jing Yu Tang. Si Qing looked at the dark courtyard and was about to turn around and leave when she saw Jing Chen stepping towards her from the brightly lit homes and said to her, "Let's get married."
On the first day of their marriage registration, Si Qing and Jing Chen got into a dispute because Si Qing wanted to maintain her image in front of their colleagues by telling a lie, but Jing Chen did not want to cooperate with the lie. As a result, they went in and out of the Civil Affairs Bureau on the same day and went from being newlyweds to entering a cooling-off period for divorce.
Jing Chen learned about Si Qing's past and her reasons for being defensive and pretending to be tough from his brain-dead fan, Chi Zhongyu, who is also an intern under Si Qing. He decided to retaliate against Xiao Fei, who had previously caused trouble for Si Qing. On a cold and rainy night with no signal on the mountaintop, Jing Chen avenged Si Qing in the same way that Xiao Fei had troubled her, revealing a sharp side of himself for the first time beyond his gentle and cold demeanor.
After acting impulsively, Si Qing realized her mistake and returned to Jing Yuan to apologize to Jing Chen and ask for reconciliation. She hoped to try again during the two-month cooling-off period of their divorce, without getting married for the sake of others. While Si Qing anxiously waited, Jing Chen took out the Jing Yuan access card that he had prepared for her long ago and led her back into Jing Yu Tang. The two spent their first night under the same roof in Jing Yuan. When Si Qing's colleagues made fun of her farmer husband, Jing Chen helped her solve the problem of the trophy with a 3D stereoscopic wall painting and even darkly retaliated against those colleagues who criticized her behind her back.
Si Qing was in the hospital, and she got along very well with Jing Chen's grandfather, which also made Jing Chen feel a warm feeling in his heart. However, on the day when Jing Chen went to meet Si Qing's parents, his grandfather passed away. At the funeral, Si Qing had a conflict with the guests due to her lack of understanding of the rural customs regarding funerals, but Jing Chen timely resolved the situation. Si Qing also met Jing Grandfather's grandson Jing Cheng at the funeral and learned that Jing Chen was just an adopted grandson. In the middle of the night, when no one was around, she saw Jing Chen sitting alone in the dark with a sad figure, which made her feel his sadness. Si Qing didn't disturb him but silently accompanied him, and quietly put the stray cats and dogs that Jing Chen usually took care of into the yard to accompany him.
Si Qing is struggling with year-end tasks and doesn't want to bother Jing Chen. When she returns to the bank, she sees Jing Chen helping elderly villagers with their business, easing her worries. The relationship between the two becomes even closer. During the year-end, a customer comes to complain about Chi Zhongyu being involved in a fraud case. Si Qing handles the situation calmly but is accused of covering up for her accomplice by the elderly customer who then slaps her in anger. However, Si Qing remains calm and helps the elderly customer resolve the telecommunications fraud case. Back at Jingyuan, Si Qing sees the photo wall that Jing Chen made for her and after eating his sour soup noodles, she finally releases the grievances that she had been keeping buried inside.
Six years ago on the Winter Solstice, Jing Chen participated in a charity auction. He thought no one would buy his  work "Winter Solstice", but Si Qing bought it for 9999. When he found out it was her birthday, Jing Chen bought her a bowl of instant noodles and two tea eggs at the karaoke booth next door and paid for her to sing all night since she was broke. The two had never met that day until they reunited six years later. Si Qing and Jing Chen's first Spring Festival was simple but warm. Ironically, they both prepared a pair of rings to make up for the gap in this hasty marriage.
During the Spring Festival holiday, which happened to be Valentine's Day, Jing Chen was afraid that Si Qing would be bored, so he suggested watching a movie. Si Qing immediately dressed up and waited eagerly for their date. However, it turned out that the "movie" Jing Chen had in mind was watching anti-Japanese films with a group of elderly people at the village. Si Qing was angry and humiliated at first, but in the end, she became completely engrossed and even missed Jing Chen's Valentine's Day gift.
After the Spring Festival, Si Qing was afraid that Jing Chen would be ridiculed by his classmates for not doing well at the alumni gathering. To support him, she went as far as to exchange all her US dollar bills from the Nan Shang Bank and fold them into paper roses, which she then sent to his school to show her support. Jing Chen was both helpless and indulgent towards his wife's kindness. Unexpectedly, his ex-girlfriend, Yun Pian, was also there, joining in the fun.
The alumni association, Yun Pian confesses her love to Jing Chen, but he immediately rejects her and reveals he is already married. Upset, Yun Pian leaves and invites her new friend, Si Qing, to play board games. Neither Si Qing nor Yun Pian know about Jing Chen's relationship with Jing Musheng. They stay up late chatting about marriage and love.
Jing Chen finds out that Si Qing went to a board game store for men and secretly feels jealous but doesn't express his feelings. He's afraid his paranoia will scare Si Qing away, and he can't express his true feelings because of past mistakes. Meanwhile, Si Qing is unaware of Jing Chen's feelings and unintentionally flirts with him.
Yun Pian comes back to Jing Yuan, and the three of them run into each other, turning the situation into a battlefield.
Si Qing found out about Jing Chen and Yun Pian's past relationship and was very upset about bringing trouble to herself, and even more jealous that Jing Chen had hidden it from her. She appeared generous on the surface but gave Jing Chen and Yun Pian ten minutes alone to catch up in a forceful manner. Jing Chen's strong survival instinct once again rejected Yun Pian, who left without caring. On the car ride with Si Qing, the two women officially confronted each other as love rivals. Under Yun Pian's stimulation, Si Qing finally decided to take matters into her own hands and aggressively seduce Jing Chen. After Jing Chen finished explaining his past with Yun Pian, he welcomed Si Qing's initiative, helplessly and indulgently switching from passive to active.
On a ambiguous night, just as Jing Chen and Si Qing were preparing to get closer to each other in Jing Yu Tang, Si Qing's "aunt" visited and completely interrupted their intimacy. Jing Chen was helpless and Si Qing was upset. This unexpected incident also led them to officially cross from living under the same roof to living intimately on the same bed. Yun Pian moved to the Jing Yuan and became Si Qing's neighbor. Si Qing was very annoyed by her rival's "provocation" but could not drive away Yun Pian. She could only have one-sided cold wars and find fault with Jing Chen. Chi Zhongyu noticed that this couple was not doing well and took the initiative to ease their conflicts. However, a conversation that didn't make sense successfully made Si Qing mistakenly believe that Jing Chen had attempted suicide for Yun Pian.
Si Qing returned to Jing Yuan and happened to find that Yun Pian had come to see Jing Chen. She also discovered a "couple cup" that she had asked Jing Chen to repair with gold wire, and her jealousy soared. At the same time, her client Teng Liqun was set up by Yun Pian and, because he was pressed by life, decided to give up hand-carved woodwork and begged Jing Chen to sell him the design for Si Qing.
Si Qing was in a hurry to recover Teng Liqun's loan, but received a call from Teng Liqun and was unable to return the money temporarily, simply because he decided to give up hand-carved woodwork, and Jing Chen refused to authorize the blueprint to him.
Si Qing rushed back to Jing Yuan to question Jing Chen about the reason, but ultimately misunderstood and decided to end the divorce cooling-off period, and filed for a divorce.
Jing Chen received a message from Si Qing proposing a divorce, which he strongly opposed. He explained to her the misunderstanding about Teng Liqun's design and began chasing after his wife. While on her way to handle the divorce procedures, Si Qing had an eye problem that caused a rear-end collision. When Si Qing was alone in the hospital corridor, she couldn't help but think about things. Jing Chen arrived in time to comfort her. The nervous and scared Si Qing expressed her feelings for Jing Chen for the first time, which made Jing Chen both heartbroken and amused. It was only because of her confession that the two realized that Jing Chen's "suicide attempt by cutting his wrist" was just a rumor spread by Chi Zhongyu. Si Qing, who was diagnosed with esotropia, was also forced to begin the long journey of quitting her phone.
Yun Pian changed her strategy as a love rival, inviting Si Qing to drink tea in an "eagle-watching" style at night, and scheduling spa appointments with her on weekends, never allowing Si Qing and Jing Chen to be alone together, while instilling negative energy about marriage. In order to avoid the war between Si Qing and Yun Pian from affecting himself, Jing Chen darkly organized a camping trip and sent Chi Zhongyu to confess to Yun Pian, and every day he stayed at her door with all kinds of cheesy love words, specifically targeting Yun Pian's "unrequited love". Jing Chen's older brother, Jing Musheng, came to challenge him, threatening to take back everything Jing Chen had, including Jing Yuan. Facing the challenge, Jing Chen remained silent until the other party provoked him by using Si Qing, finally successfully arousing his emotions, and the two parted ways.
Jing Chen missed Si Qing, who was on a business trip, and expressed his longing by using the phrase "the plums are ripe". Unfortunately, Si Qing, whose thinking was not on the same wavelength, did not understand the romantic meaning and actually brought back a basket of bayberries. Jing Chen was speechless as he looked at the basket of bayberries and could only turn the hard-to-buy early-ripe bayberries into bayberry wine. Meanwhile, Si Qing misunderstood that Jing Chen's frequent use of the phrase "the plums are ripe" on social media was actually about his ex-girlfriend, due to a comment from Yun Pian. It wasn't until Si Qing heard the song "If Love Had Fate" that she had once sung in the karaoke machine that she realized the true meaning of "the plums are ripe" that Jing Chen had said six years ago when they first met. With their ambiguous and lingering relationship, Si Qing finally understood what Jing Chen really meant by the phrase "the plums are ripe".
Si Qing handles the developer admission process, but Xiao Fei deliberately makes things difficult. Xiao Fei ridicules Jing Chen for his village identity and also makes things difficult for Si Qing without any manners. Si Qing doesn't hold back and fights back. Just then, Jing Cheng is present and as the architect on Xiao Fei's side, he helps Si Qing resolve the situation. Afterwards, he teams up with Xiao Fei to plan to teach Jing Chen a lesson. Jing Chen and Chi Zhongyu are playing ball when they receive a call about repairing Yanfu Temple. This used to be the responsibility of Jing Chen's grandfather, but now it is Jing Chen's job. At this time, they run into Jing Cheng and Xiao Fei, who intentionally find trouble and cause trouble. Jing Cheng even deliberately provokes Jing Chen, afraid that his true identity will be discovered by those close to him.
Jing Chen was busy inspecting and repairing Yan Fu Temple, but he knew very well that it was difficult for him to complete this task alone with his current ability, which also reignited the nightmare buried deep in his heart. It was because of Jing Cheng that Jing Chen left many years ago. Si Qing was handling mortgage business at the real estate company, and Xiao Fei deliberately made things difficult as revenge, trapping Si Qing in the parking lot on a stormy night. Si Qing originally wanted to seek help from Jing Chen, but in the end, she remained silent, afraid of causing trouble for him and not wanting him to be distracted by her. However, Jing Chen eventually learned of the parking lot incident, couldn't suppress his emotions any longer, and once again taught Xiao Fei a lesson.
Jing Chen felt guilty for choosing to settle in Jing Yuan instead of giving Si Qing a better life when he knew he had the ability to do so. He ultimately decided to accept a job recommendation from his teacher, but was surprised when Jing Cheng suddenly showed up at the table where they were drinking. Jing Cheng intentionally made things difficult for Jing Chen and taught him what he called "rules" in the workplace. Yun Pian, who happened to pass by, saw Jing Chen bowing his head and compromising, and was disappointed in his change. Jing Chen could face Yun Pian's disappointment openly, but was afraid of making Si Qing angry. He became even more anxious when he saw Si Qing talking to Jing Cheng, fearing that she would find out about the bad things he did when he was young and give up on him completely. Si Qing's sudden cold war and intentional avoidance made him even more uneasy.
On Jing Chen's birthday, Jing Cheng provocatively appeared singing a birthday song and revealing the mistake Jing Chen made when he was young. Under Jing Cheng's stimulation, Jing Chen finally collapsed. He once again destroyed the model he had repaired with his own hands and fought fiercely with Jing Cheng. When he learned that Si Qing was about to be promoted and leaving him for the North City, Jing Chen revealed his paranoid side, which was just caught by Si Qing. On the other hand, Chi Zhongyu and Yun Pian were creating a birthday atmosphere, discussing whether Jing Cheng would be exposed. It turned out that Jing Cheng came back just to untie Jing Chen's knot. He found Si Qing, Yun Pian, and Chi Zhongyu and told them about their past, working together to perform this desensitization therapy.
After learning about Jing Chen's legal troubles, Si Qing, who was collecting the keys to her newly acquired house in Nancheng, decided to sell the house to help him through this difficult time. Si Qing entrusted the sale to Yun Pian, but unfortunately, Jing Chen caught them looking at the property with a real estate agent. Jing Chen directly refused to sell the house, knowing better than anyone what it meant to Si Qing and the sense of security it provided her. Yun Pian was moved by the couple's selflessness towards each other and began to waver on her decision to remain unmarried. In the end, Jing Chen decided to sell Jing Yuan to Jing Cheng's stepfather.
When Jing Chen finished cleaning up Jing Yuan, Si Qing returned to his side. She comforted him without any awkwardness and continued to talk about their future life together, including her unwavering proposal to take care of him no matter what.
Si Qing went to the northern city to develop her career and started a long-distance relationship with Jing Chen. Yun Pian recommended a brand to Jing Chen to help craftsmen better. However, the cooperative brand intentionally smeared the image of China in their promotion. When Jing Chen requested them to remove the related promotion and apologize, they responded with contempt and insulted them. Faced with such a strong and unreasonable brand, the only thing Jing Chen could do was to initiate the termination of the contract. He was also aware that he would face a large amount of breach of contract fees. When Si Qing learned about this, she sold the house without telling Jing Chen. How could Jing Chen bear to do this? He knew better than anyone else what the house meant to Si Qing. It was a sense of security that even he couldn't provide.
With the accompaniment of Si Qing, Jing Cheng, and others, Jing Chen finally won the lawsuit and terminated the contract smoothly. However, he had to sell Jing Yuan to help the craftsmen return the deposit. While Si Qing and Jing Chen were packing, the investor who bought Jing Yuan, who was also Jing Cheng's stepfather, decided to turn Jing Yuan into an "international business card" for Chinese handicrafts and redevelop a hotel next to it, achieving a real win-win situation.
On another winter solstice, Jing Chen prepared everything early, waiting for Si Qing to come back home to celebrate the festival. In this courtyard with white walls and black tiles, there were no longer just red plum blossoms and white snow, but also steaming hotpot and sweet soup. With family, friends, and lovers by his side, this was the most beautiful scenery in the world.
Photos
You May Also Like
Related Posts