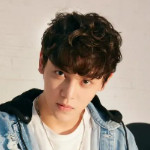 Qiu Shilun dramas, movies, and TV shows list contains the best TV series, films of Qiu Shilun and the ongoing and upcoming shows. The list will be updated continuously, bookmark this list to get the latest tv shows of Qiu Shilun.
Qiu Shilun Dramas List
2023-10-23

#1

Historical, Romance, Fantasy

Alen Fang, Huang Riying

Cui Chen, the genius senior brother of the Qingyuan Sword Sect, and his junior sister Zhao Tantan embark on a hilarious journey to find the "Seven Leaf Lotus", growing up and gaining love along the way, and joining forces to revive the sect.

2021-08-08

#2

Historical, Romance, Suspense

Her Nan, Qiu Shilun

Ye Xiaotang, the girl from the richest family who is destined to live beyond the age of 20, painstakingly pursues the "Tan Hua" Mu Jinyan, claiming to "marry" him, but is repeatedly rejected. The reason is that they are destined to be mutually exclusive and will both perish if they are forced to be together. After learning the secret of the incompatibility of the fates of the descendants of witch and Bone Touch, Mu Zhenyan withdrew from the marriage in order to protect Ye Xiaotang, but has been secretly looking for the dream-making crystal and the method to lift the incompatibility of their fates to renew the life of Xiaotang. Ye Xiaotang knows nothing about this and is willing to throw thousands of gold, chasing after him, just to marry him as his own. Facing Ye Xiaotang's pursuit, Mu Jinyan refuses on the surface, but his heart is very honest, often being teased by Ye Xiaotang. Ling Ziran has been in adoration of Ye Xiaotang, saying that he will marry Ye Xiaotang. Although his marriage proposals were repeatedly rejected, he never gave up. But he hasn't yet seen Ye Xiaotang change her mind, his true love Princess Yue You'er is appearing ……

2020-09-09

#3

Historical, Romance, Suspense

Xing Zhaolin, Xiao Yan

When her master, Shi Boyin, is framed and died, Ju Mu'er's life changes drastically. She also loses her eyesight and goes into the life of Long Yue, the richest man in the capital. When she is determined to avenge for her master's death, she finds herself involved in one case after another. While investigating the case, she is forced by a married man to marry her. However, as they spend time together, they develop an affection for each other. Not wanting to implicate the Long family in her master's case, Ju Mu'er sets up a scheme to make Long Yue misunderstand and repudiate his wife. When Long Yue learns the truth, they are married again. As the investigation progresses, the case becomes more and more confusing, Jui Mu'er is nearly killed, and the Long family is in an unprecedented predicament. Theyare forced to divorce and fight together against the enemy. When the truth is revealed, Long Yue marries Jui Mu'er, who has married him three times, and they finally embrace each other happily.

2020-03-22

#4

Historical, Romance, Suspense

Xiang Hanzhi, Qiu Shilun

Ye Xiaotang, as the daughter of the Ye House in capital, is very beautiful, looks like a fairy, but "repeatedly married", and the legend of the her origin being the "heavenly lone star" makes even the beggars in the capital avoid her! Ye Xiaotang had no choice but to make a float with a lot of money to tour around the city to ask for a marriage! Mu Junyan, passes by on his way to the capital to take up his duties, and inadvertently receives a "bride price" and a beautiful bride, Ye Xiaotang. When Ye Xiaotang falls into Mu Zhuyin's arms, she falls in love with him and is determined to take him as her husband! The ninth prince of the dynasty, Ling Ziran, wants to "steal" Ye Xiaotang, but he is framed as a murderer. The three of them form a team to trace the murderer, but they are involved in the unsolved cases deeply. How do they deal with the culprit behind the crime?
Related Posts