Dear Little Mermaid – Xu Kaixin, Lin Siyi
Dear Little Mermaid is an urban romantic drama directed by He Jianan, starring Lin Siyi, Xu Kaixin, Zhang Keai, Cai Yijia, Fu Mei, and Pan Luyu.
The drama tells the story of a hero and a heroine who were once recognized as CP during their school days, but due to the heroine's health and various misunderstandings, they missed each other. Eight years later they accidentally met in a hospital and their disconnected destinies became entwined again.
Details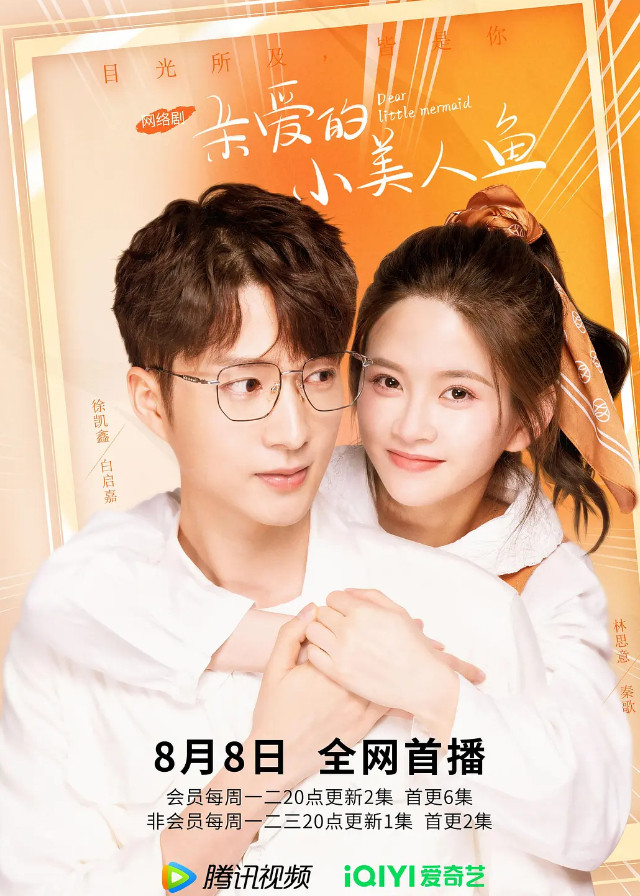 English Title: Dear Little Mermaid
Chinese Title: 亲爱的小美人鱼
Genre: Urban, Romance
Episodes: 24
Duration: 35 min.
Director: He Jianan
Writer: Ma Jiani
Producer: Zhang Yinyin
Product Company: QIANGSHENG PICTURES, BIG WAVE ENTERTAINMENT
Released Date: 2022-08-08
Boradcast Website: WeTV
Cast
Synopsis
Qin Ge, the author of the popular teen comic "Bu Bai Qi Ji Hua", has been suffering from lupus erythematosus for eight years and is also a restless lupus erythematosus patient.
On the day of routine hospital checkups, she was using technical means to attempt to muddle through the health checkup.
A phone call from her assistant told her that the signing of a contract for her work was stuck because of problems with the website.
This was not only about her fee but also about whether her "dream list" could be realized.
In her desperation, Qin Ge started a "flying over the hospital" operation, but at the last minute she was caught, and this person is Qin Ge's childhood friend – Bai Qijia.
Eight years ago, they were the recognized "CP" in their class. Because of Qin Ge's accidental illness and misunderstanding, they missed each other.
During the eight years, Qin Ge struggled to live her life and found the meaning of her existence again, saying goodbye to love and painting seriously, but after eight years, she was shaken by the reunion with Bai Qijia.
Qin Ge subconsciously wanted to escape, this escape let their fate entangle together again.
And eight years later, Bai Qijia changed a lot in temperament, he was persistent and sticky, so Qin Ge can not stand him.
The disease of Qin Ge was like a ticking time bomb that made her panic, reason, and emotion fought in her brain every day, whether to continue to escape or break through the long-suppressed shadow of her own, Qin Ge was looking for her own answers.