Wife's Choice – Sun Li, Yuan Wenkang
Wife's Choice is a romantic life drama directed by Kan Jiawei, starring Sun Li, Yuan Wenkang, Zhang Yao, Wang Zhen'er, and Ma Yinyin.
Details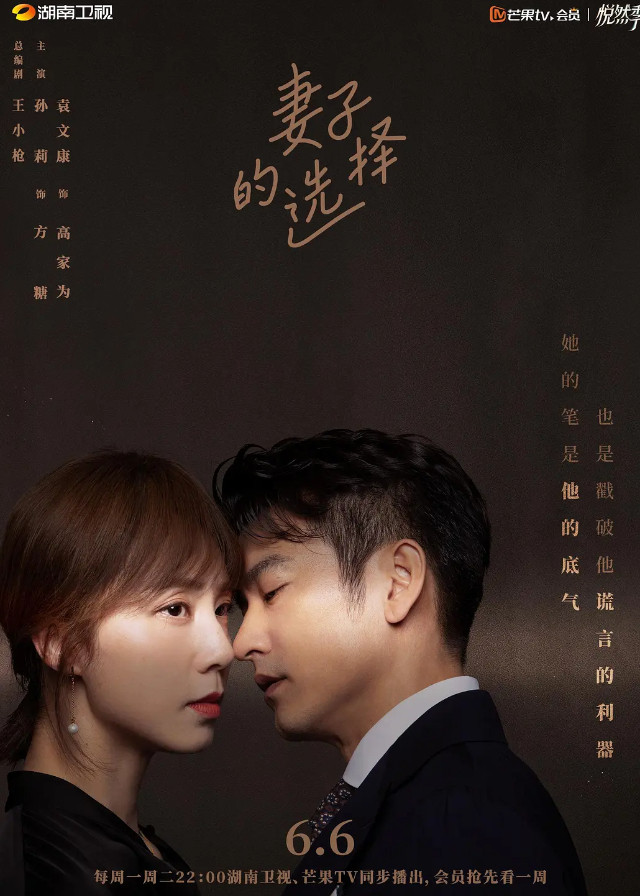 English Title: Infidelity in Marriage
Chinese Title: 妻子的选择
Genre: Urban, Life, Family, Romance
Tag: Infidelity, Married Life, Female Centered Plot, Suicide, Death of a Character, Depression
Episodes: 12
Duration: 70 min.
Director: Kan Jiawei
Writer: Wang Xiaoqiang
Product Company: MGTV, MANGO EXCELLENT MEDIA , TANGREN PICTURES
Released Date: 2022-06-06
Watch On: MGTV, MangoTV Monsoon
Cast
Synopsis
Housewife Fang Tang was living a happy married life. After her 30th birthday, she discovered her husband Gao Jiawei's series of unreasonable behaviors. Finally, she confirmed that he had an affair.
After her inner torment and torture, she chose to deal with the situation calmly, hoping that her husband will be honest and come back to her. But his husband's evasion, deception, and irresponsibility made her extremely disappointed.
Meanwhile, Qi Miao, Gao Jiawei's partner, and rival wanted to seize on Gao's marital crisis to suppress him, but she got her own career involved.
Qi Miao was so busy pursuing fame and fortune that she had long been estranged from her husband.
It was not until her husband filed for divorce that it dawns on her that even though she has material and fame, she is not happy with her life.
And Qi Miao's assistant, Da Yu, was too busy taking revenge on the bad man and instigator, and also neglected her family.
After experiencing various changes, Fang Tang chose to step out of her comfort zone, stop relying on her marriage, and return to the workplace to have her new life.
Qi Miao finally understood that the most important thing in life was the love between family members and learned to balance her life and career.
Da Yu let go of her obsession, life should not be trapped in the irretrievable past, but should cherish the present moment.
Reviews
You May Also Like
Related Posts