My Neighbour Can't Sleep – Chen Yixin, Wang Zixin
My Neighbour Can't Sleep is a youth romantic web drama directed by Tian Tian and Hu Meng, starring Chen Yixin, Wang Zixin, Ma Xueyang, Yang Ke, Xue Cheng, and Guo Xiwen.

The drama tells the sweet love story of how a pianist, Xi Song, who suffers from insomnia, is cured by a drama queen, Song Miduo, who dreams of becoming a romance novelist.
Details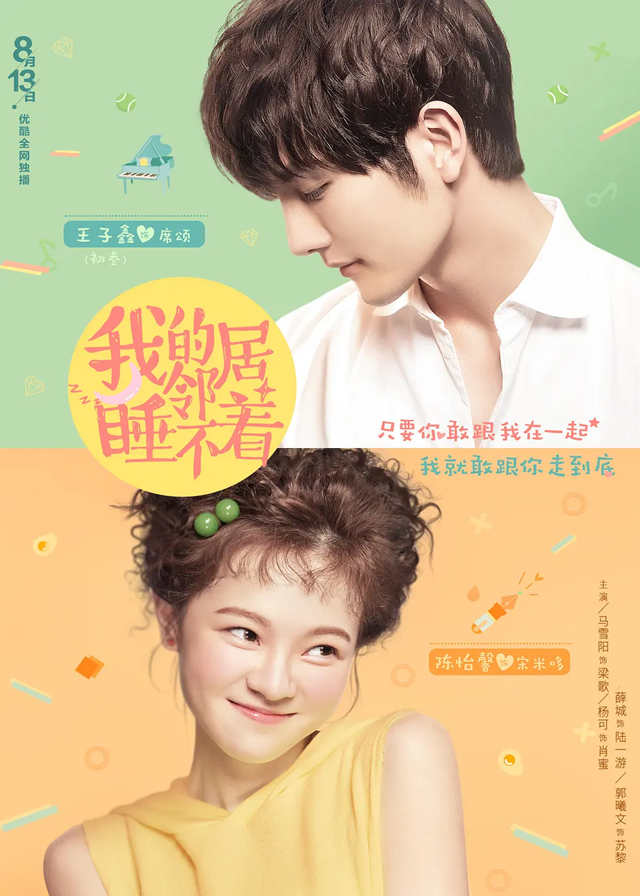 English Title: My Neighbour Can't Sleep
Chinese Title: 我的邻居睡不着
Genre: Urban, Youth, Romance
Tag: First Love, Opposites Attract, Healing, Female Chases Male First, Older Man/Younger Woman, Neighbors' Relationship
Episodes: 24
Duration: 36 min.
Director: Tian Meng, Hu Meng
Writer: Hu Meng
Product Company: LIONFISH CULTURE, CENTURY, KAICAO CULTURE
Released Date: 2019-08-13
Boradcast Website: Huashi.tv
Cast
Synopsis
Song Miduo, a single girl who vows to become a romance novelist, met pianist Xi Song, who became famous as a teenager, during her summer vacation from high school.
Xi Song suffers from insomnia due to stress but can sleep peacefully next to Song Miduo.
Song Miduo was determined to write a romantic novel based on Xi Song to get a chance to study in the Chinese Department.
They reached a friendly and reciprocal agreement and started the "pillow plan" of sharing a bed.
When the soft and dreamy girl meets the ascetic warm "cadre", they walk side by side and reap not only love but also the crystallization of their dreams.
You May Also Like
Related Posts