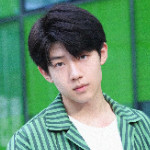 Wu Junting drama list contains the best dramas of Wu Junting and the ongoing dramas and upcoming dramas. The list will be updated continuously, bookmark this list to get the latest TV Series of Wu Junting.
Upcoming Wu Junting Dramas
TBA

#1

There Is a Lover in My Hometown

Romance, Drama, Life

Li Xian, Zhou Yutong

Chen Maidong was once a rebellious youth, but after experiencing a life-changing event, he chose to become a funeral makeup artist. Zhuang Jie became disabled due to a car accident, but she worked hard and became a career elite in the big city in order to pursue a better self. One is a funeral makeup artist with a rebellious personality but is emotionally and physically lonely, the...

TBA

#2

Fu Yu An

Historical, Romance, Drama

Qi Yuchen, Wu Junting

Princess Liu Changsheng from the Fu Yu Kingdom has the label of "husband-killer" attached to her name. As she reaches the age of marriage, she worries about finding a suitable husband. The Emperor intends to send her to the Da Tang Kingdom to marry the ruthless and bloodthirsty Prince Qin Li Jing, who is known as the "Jade-Faced Demon". With the mission of "killing husbands to save...
Completed Wu Junting Dramas
2022-12-25

#3

Time and Him are Just Right

Youth, School, Romance

Lu Yuxiao, Wu Junting

Recently, there is a rumor that Class One Ji Junxing has a fiancée. A group of friends who have known the young master since childhood asked jokingly, "A Xing, why are you hiding a fiancée behind our backs? The young man's eyes narrowed slightly and he spat out four words: None of your business. The friends immediately got more excited and shouted: "If you don't deny it, then you...