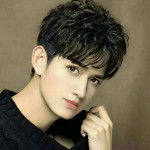 Ma Ke drama list contains the best dramas of Ma Ke and the ongoing dramas and upcoming dramas. The list will be updated continuously, bookmark this list to get the latest TV Series of Ma Ke.
Upcoming Ma Ke Dramas
TBA

#1

Under the Moonlight

Historical, Suspense, Thriller

Hu Bingqing, Zhai Zilu, He Peng

The drama tells the story of Luo Shu, a female constable with a difficult fate, and Qi Menglin, a playboy who wants to travel the Jianghu. They solve strange cases and grow together in love.
Ongoing Ma Ke Dramas
2023-03-21

#2

Romance of a Twin Flower

Historical, Romance, Comedy

Ding Yuxi, Peng Xiaoran

Since childhood, Ji Man grew up in Haifang, she was a carefree girl, living a happy life. Unexpectedly, an accident occurred during a trip to the capital. She woke up again and became the wife of Ning Yuxuan, the Moyu Marquis. After being treated as the brutal and jealous Nie Sangyu, Ji Man not only had to suffer the humiliation of being repudiated by Ning Yuxuan but also faced the...
Completed Ma Ke Dramas