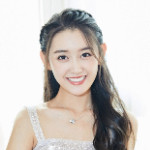 Jiang Yiyi drama list contains the best dramas of Jiang Yiyi and the ongoing dramas and upcoming dramas. The list will be updated continuously, bookmark this list to get the latest TV Series of Jiang Yiyi.
Upcoming Jiang Yiyi Dramas
TBA

#1

Hua Jian Jiu Ren Jian Yue

Historical, Romance

Jiang Yiyi, Ao Ziyi

Mo Yueying is a straightforward girl with a particular fondness for good wine. Hua Wuyou is a talented winemaker. When they meet, they have a series of hilarious stories over wine. In the course of their time together, they gradually open their hearts and accept each other, gaining a beautiful love.

TBA

#2

Zhao Ge

Historical, Fantasy, Romance

Wu Jinyan

During the Shang dynasty, Di Yi moved his capital to Zhao Ge, hoping that the city would thrive like a loud song in the morning. Time passed by, and the throne passed to Di Xin, who was so happy with his success that he fought on all sides and led the people to live an unstable life. Fortunately, Ji Kao, the son of Ji Chang of Xiqi, and Yin Jiao, the son of Di Xin, are young heroes...
Completed Jiang Yiyi Dramas