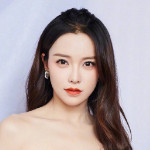 Huang Yilin drama list contains the best dramas of Huang Yilin and the ongoing dramas and upcoming dramas. The list will be updated continuously, bookmark this list to get the latest TV Series of Huang Yilin.
Upcoming Huang Yilin Dramas
TBA

#1

Eight Strange Cases of the Republic

Suspense, Thriller

Vin Zhang, Yu Xiang, Huang Yilin

The eight bizarre and horrific murder cases that took place during the Republic of China period, although seemingly unconnected on the surface, are secretly linked and hide a thousand threads of entanglement. Zhou Peiqi is a straightforward and cheerful female detective who has returned from studying in Japan with a vengeance for evil. Because she has been working as Xiao Benmo's assistant,...
Completed Huang Yilin Dramas