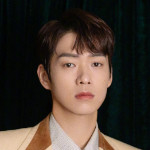 Wei Daxun drama list contains the best dramas of Wei Daxun and the ongoing dramas and upcoming dramas. The list will be updated continuously, bookmark this list to get the latest drama series of Wei Daxun.
Upcoming Wei Daxun Dramas
TBA

#1

My Fireworks on Earth

Urban, Rescue, Romance

Yang Yang

,

Wang Churan

,

Wang Yanlin

After ten years apart, fire station chief Song Yan and emergency department doctor Xu Qin reunite. In their youth, they were forced apart by family opposition, but when they meet again, they have both grown and changed a lot. Due to the nature of their work, Song Yan and Xu Qin gradually "cross paths". Song Yan leads the firefighters...

TBA

#2

The Love of Hypnosis

Romance, Fantasy

Liu Yifei

,

Jing Boran

Tang Man, a white-collar urbanite, returns home for a vacation to heal after suffering a serious injury in both career and love, and discovers an old and dilapidated manuscript, "The Writings of Nan Yan Zhai". The manuscript tells the story of a patriotic young man, Ye Shen, and the owner of an aroma store "Nan Yan Zhai", Lu...
Completed Wei Daxun Dramas